The 'Black-ish' spin-off is now available on the streaming service.
The catalog of Star and Disney + continues in full growth. AND one of his new additions is the 'sitcom' Grown-ish, the 'spin-off' of the great Black-ish -also available on the 'streaming' service-, the comedy starring Anthony Anderson that narrates the day-to-day life of a large African-American family, the Johnson , in a white neighborhood. Any member of this unique clan is worthy of their own independent series, but has been Zoey, the eldest daughter, the first who has managed to be the absolute protagonist of her own fiction.
On Grown-ish, Zoey (Yara Shahidi) tells in the first person what his new adventure towards adulthood is like: his entrance into university. Although she had imagined that life away from the family home would be idyllic, she soon comes face to face with reality and begins to discover that the university world is not so wonderful. Despite this, Zoey is not willing to throw in the towel and is going to give everything in her power to achieve her dream.
Created by Kenya Barris and Larry Wilmore, the 'sitcom' does not forget that characteristic humor with which Black-ish has managed to woo millions of viewers around the world. An ingredient that makes it the ideal fiction to watch this summer. But it's not the only reason you'll want to hit play. Next, we tell you others four reasons for which Grown-ish it has all the qualities to become your new favorite series.
The little sister of a hit series
The first reason why you should not lose sight of Grown-ish is that it is preceded by the success of Black-ish, ABC's Emmy and Golden Globe-winning sitcom -for Tracee Ellis Ross-, which you can also find in the Star catalog on Disney +. The fiction created by Kenya Barris managed, thanks to its great stories and its fantastic starring cast, to win the affection of the public since the broadcast of the first episode on the North American network, in September 2014. A reception that did not take long to bring to the producers to give green light to a 'spin-off' that would lead by title Grown-ish. A new story that made it to the small screen four years after the original, in 2018, and that would star Zoey Johnson during her college adventure.
Curiously, both continue to coexist on television, where they continue to triumph among the thousands of viewers who do not miss a single episode. Coming soon, Black-ish will premiere its eighth season, while Grown-ish will do the same with his fourth installment. It is clear that the little sister has managed to detach herself from the womb and be absolutely independent, despite being more oriented to a younger audience.
University reality without morality lessons
The universe of adolescents and young people has been, and continues to be, an inexhaustible source of inspiration for television fiction. There are dozens of series that address this passage from adolescence to youth, and later to adulthood, focusing on the problems that arise with new friends or the awakening of sexuality. However, not all these productions are faithful to reality and, at times, they tend to unfoundedly exaggerate some situations that young people face in their day-to-day lives.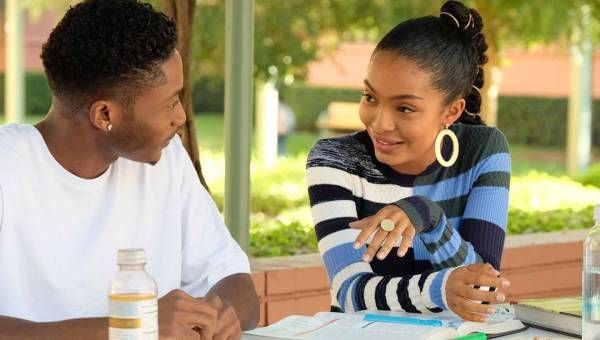 Grown-ish, meanwhile, He has known how to distance himself from that fantasy world that is narrated in some of them and has shown that you can do a very realistic college youth series. The plots on which the first three seasons of the fiction created by Kenya Barris and Larry Wilmore are based on themes such as the consumption of pills to increase concentration during exam times, the not always responsible use of social networks, the clear political ideologies that students have… And all this told without a battery of clichés around it, and with light notes of humor. The last thing that is intended in Grown-ish it is giving lessons in morality, and that is appreciated in a society where they are the order of the day.

To see as a family
And Black-ish It is an ideal comedy to enjoy as a family with the little ones in the house, its 'spin-off' is fantastic for see with your children, or your parents, from adolescence. Seeing together what that step to adult life is like, the benefits and sacrifices that the university stage hides and what are the concerns and fears of a new generation, can help to put on the table some interesting topics to chat with the family. And let's not forget that the family that watches series together … stays together.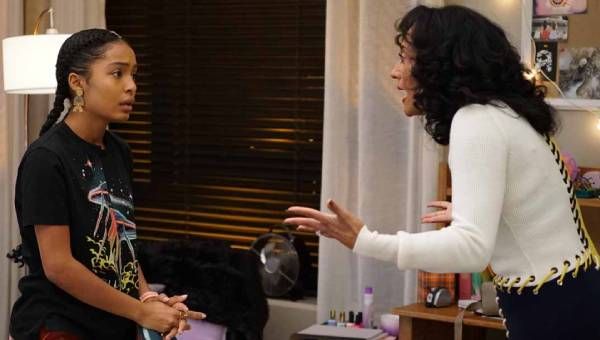 Perfect for marathons
Summer, with its longest days and long-awaited vacations, is the perfect time to do marathons of those series that you have pending. Definitely, Grown-ish is the ideal candidate for marathons, thanks to its episodes of just over 20 minutes duration. Surely you are already wondering how many hours you need to see all the chapters that are available in Star on Disney +. But you don't have to take the calculator, because we've already calculated it for you. The first season, which is the one that is already available until the second and third arrive, is divided into 13 episodes. Yes effectively. In four hours you could catch up and be ready for the arrival of the new seasons.

Many Thanks To The following Website For This Valuable Content.
4 Reasons 'Grown-ish' Is The Perfect Series To Watch This Summer On Star On Disney + – Series News