Series about the financial world and lawyers have become the favorites of many viewers. The Good Wife, The Good Fight, Better Call Saul o Suits are some of these series. Movistar + premieres next Tuesday, September 7 five new episodes of the Showtime series Billions which has become one of the most viewed on the streaming platform.
Billions is a hit series created by Andrew Ross Sorkin, Brian Koppelman and David Levien that tells us about the life of un aggressive New York attorney deals exclusively with investments and problems of billionaire hedge funds.
These five long-awaited episodes end season 5 whose production had to be interrupted in June 2020 due to the coronavirus pandemic.
What will happen in the new episodes?
In the new episodes Mike Prince, played by actor Corey Stoll known for his role in House of Cards, remains the new great rival of Ax. The actor will be an improved version of Ax, but without that impulsive and aggressive character that has so often become a big problem. Mike Prince is a confident man who has to face his business and financial goals.
Millionaire Mike Prince will give Chuck Rhoades (Paul Giamatti) a potential weapon in his fight against Bobby Axelrod (Damian Lewis) .In these new episodes new alliances and businesses will be re-created and broken. All its protagonists from Taylor (Asia Kate Dillon) to Wendy (Maggie Siff) are involved in a conflict that is very close to destroying everything they value.
In these five episodes actors such as David Costabile, Condola Rashad, Kelly AuCoin and Jeffrey DeMunn. Actress Janeane Garofalo will appear as a guest star in this second half of season 5 as Winslow, the modern owner of a legal cannabis corporation.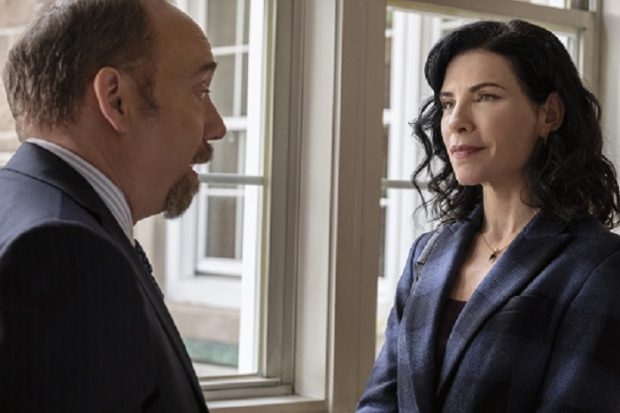 A good deal on Billions
The Serie Billions has stood out from the first moment for the great work of its two protagonists played by the actors Paul Giamatti and Damian Lewis. On Billions Paul Giamatti plays Chuck Rhoades, the cruel New York Attorney General who flirts with BDSM, and Damian Lewis plays his nemesis hedge fund manager Bobby Axerold. The two are faced with their complex machinations and slightly outlandish speeches.
Paul Gimatti's a well-known film actor whom we have seen in productions such as Between drinks, Cinderella Man, The world according to Barney or The young woman of the water. His first television role was as the lead in the HBO miniseries John Adams, which earned him a Golden Globe and an Emmy for best miniseries actor.
We know actor Damian Lewis through his amazing role as Sergeant Brody on the show Homeland. For this role he won a Golden Globe and an Emmy for best actor. He has also participated in Life, Wolf Hall and his role as Mark Rose on the television series Blood brothers.
Many Thanks To The following Website For This Valuable Content.
'Billions' Season 5 returns to Movistar with 5 new episodes from September 7