Sorry for what I'm going to say, but I have to: Ryan Gosling is ugly. And let me explain. I met him last week and embarked on a mission that no one had asked of me: to conclude if the star of La La Land and Blade Runner 2049 whether or not he is handsome in real life.
Sitting six feet from him, I understood how Chuck Palahniuk, the author of the novel, felt Fight club, when he met Brad Pitt. Palahniuk recounted in his memoirs that he quickly understood that Pitt's secret to reinventing the male beauty canon in the 90s was his lips: he had them completely controlled and he licked them with his tongue every time he wanted to ask someone for a favor. He always achieved his goal.
Their eyes are inhumanly together. At the point where those eyes almost touch like two stubborn bumper cars, a long, thin nose is born that ends in disappointment: it is neither upturned, nor aquiline, nor flat. It is all bridge. As if it were designed by Calatrava
I was able to verify that the magic trick with which Gosling (Ontario, Canada, 1980) has become the boyfriend of the Internet is the eyebrows. Because in these times, virility is measured by your ability to control your eyebrows. Gosling has his own well mastered to be mysterious, suggestive and assertive and thus distract attention from the rest of his face.
Their eyes are inhumanly together. At the point where those eyes almost touch like two stubborn bumper cars, a long, thin nose is born that ends in disappointment: it is neither upturned, nor aquiline, nor flat. It is all bridge. As if it were designed by Santiago Calatrava. Just below that nose is a tiny mouth (which only opens to be thoughtful or sympathetic, things as they are) flanked by two cheeks that take up 60% of that face. His expression makes it look like he's permanently holding his breath.
If you came across him on the street, he would not attract your attention at all. At most a thought along the lines of "this guy gives himself a Ryan Gosling air" would cross your mind. And that's the key: it's not that it's hard to look like Ryan Gosling, it's that even he doesn't look like Ryan Gosling. Your iPhone X would never be unlocked by facial recognition.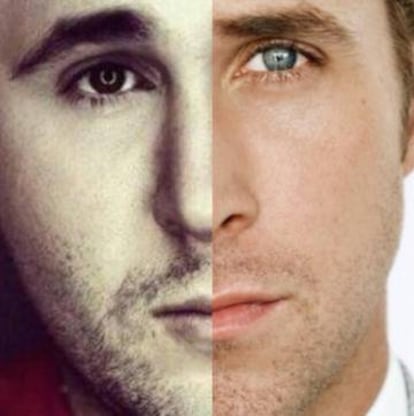 Star Ryan Gosling is a non-existent (astonishingly photogenic) Hollywood product, he just gives up his body to her and gets into character when there are cameras in front of him. Since no one was videotaping him during my interview, he relaxed and let out the real Ryan – a guy who wouldn't be chosen last to play soccer at recess, but not the first either. An ordinary man who, however, is forging an entire career based on behaving like Michael Fassbender.
What method did the Genie use to transform Aladdin into a prince? Did it give him land, subjects, wisdom, a college degree in Georgetown? Absolutely. I would put him in a nice suit and do a parade for him. The only difference between Aladdin "the street rat" and Ali "the prince" was the expensive clothes. Ryan Gosling has brought this philosophy to the red carpet. And he's turned the red carpet into his bitch. Aladdin and Gosling perpetuate the American doctrine that, in this life, to succeed you have to start by behaving like a winner.
In his early films (Noa's diary, Half Nelson, Lars and a real girl) Gosling drew attention, precisely, for embodying the ordinary man with the pretense of a chronic loser. A meme even circulated that compared his features to those of Kiko Rivera. From there he had two paths ahead of him: character actor or nondescript secondary. And suddenly 2011 came and Gosling, with the help of his publicist, his hairdresser and his personal trainer, opened a third way. Crazy, stupid love, in which Emma Stone admired that her abs "appear to be Photoshopped," and Drive, a spiral of uber-stylized violence in which his interpretation lay entirely in his eyebrows, made him without our realizing it the definitive dandy of the new millennium. And the whole world fell into the trap.
Stranger things have been seen (in the mid-90s Jesulín de Ubrique was thrown bras into the ring), but the joy with which the public hugged, or wanted with all their might to hug, the new Ryan Gosling shows one thing of our own. society: that we prefer to lose an actor of character if thus we win a solid. He still had the same face, a face that seems to be in the process of applying a Snapchat filter, but everything around her and everything he did with her was much sexier than before.
The following roles of Gosling have fed that image of a happy to meet, but friend of his friends. And they have also shown that, when reinventing themselves, every man must pay special attention to his outerwear. The jacket with a golden scorpion on the back of Drive, the tailored suit that Gosling even stopped a song to clarify that it was not polyester but wool, or the asymmetrical coat (quite the opposite of his face, a mirror effect in itself) that he looks in Blade Runner 2049 make it clear that winter clothes should never be neglected. Because they can make you a star.
And here comes some really good news
Let's be clear: being handsome has no merit (genetics can be cruel), but convincing millions of people that you are is a real feat. Gosling is literally a self-made man. He realized that the public smells of insecurity and decided to fully immerse himself in the role of heartthrob. And humanity, like the rats that followed the Pied Piper of Hamelin, have collectively fallen in love with him.
Because perception is reality. And today, as well as a star, Ryan Gosling is a guru and an inspiration to all men with little memorable faces: if he could, you can too.
Many Thanks To The following Website For This Valuable Content.
I was with Ryan Gosling and I have several bad news (and a good one) | ICON