Game News Batman X Rocket League: Batmobile, Gotham City mode… All about the limited event
For the theatrical release of the new The Batman movie, Rocket League has once again teamed up with the Dark Knight. In the program ? Cosmetics, Batmobile, but not only.
Summary
Rocket League and Batman

Gotham Rumble: Great Power Involves Scoring Goals
Rocket League and Batman
Available in theaters since March 02 with the film The Batmanthe superhero Batman is also back on screen on Rocket League! Since yesterday, the game mixing foot and car displays a limited event starring the Dark Knight. Until Wednesday, March 9, 6:00 p.m. (French time), a cosmetics pack inspired by the dark and gothic world of Batman will be available. And if this is not the first fruit of this partnership between Psyonix and the DC hero, the cosmetics offered here are not recycled since it is that of the recently released feature film.
In the event Haunted Hollows during Halloween 2021, the Batmobile (1989), The Dark Knight's Tumbler and the Batmobile (2016) made their appearance. Today, these are exclusive cosmetics related to The Batman which are revealed: the Batmobile (2022 Hitbox Dominus) chassis, the Batmobile (2022) wheels, the Batmobile (2022) turbo or even the Batman goal explosion. The whole set is available in the shop for the amount of 1100 credits but beware ! Psyonix clarifies that with the exception of the Batman Explosion goal animation, "Items included in The Batman Bundle above can only equip the Batmobile (2022). You cannot customize the Batmobile (2022) with additional items". The full list below:
Cosmetics list
Chassis (Hitbox Dominus) Batmobile (2022)
Batmobile Engine Sound (2022)
Dark Knight Matte Paint
Batmobile Wheels (2022)
Turbo Batmobile (2022)
Batmobile Drag (2022)
Real life decal
Batman goal blast
Gotham Rumble: Great Power Involves Scoring Goals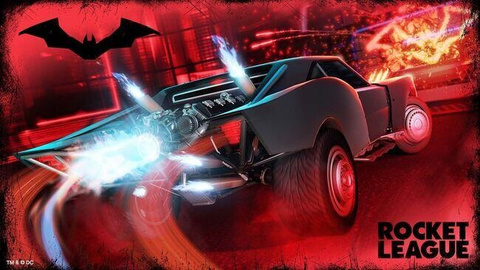 But as mentioned above, cosmetics are not the only stars of the partnership between The Batman and Rocket League: Gotham City Rumble. It's a restyled version of Rumble mode, where players gain access to special powers every ten seconds. Some freeze the ball, others allow it to be attracted or can still be used to demolish opposing players. These powers have been redesigned to match the event: Joker Boxing Glove, Vines of Poison Ivy or the Bat-GrapnelThere is something for every taste…
This event, which ends next Wednesday March 9 at 6:00 p.m., is also synonymous with the conclusion of season 5. Season 6 has not yet been dated or even made official by Epic Games, but there is no doubt that it should happen within coming days. To be patient, we can always go and see The Batman At the movie theater. The film is directed by Matt Reeves and stars Robert Pattinson as the Savior of Gotham. Generally, The Batman was hailed by the press and in particular for its faithful dark and gothic transcription of the universe.

By CharlanmhgWriting jeuxvideo.com
PMTwitter
We would love to give thanks to the writer of this article for this remarkable material

Batman X Rocket League: Batmobile, Gotham City mode… All about the limited event