Game News Battlefield 2042: Maps will be smaller, Dice continues to overhaul its game
Battlefield 2042 continues to be updated by Dice, bit by bit. The studio has announced that the next cards in the game will be smaller.
In one posted on his blogDice continues to project onto the future Battlefield 2042 improvements and fixes. The studio's plans are clear: continue to identify problems existing, and correct them for previously released content and do not reproduce them in future unreleased content.
Spawns and flags will be moved
Dice identified one of the main problems with the title according to them and the player feedback they heard: map traversal time is too long.
One of the main issues we have identified is traversal. We have seen and heard your frustrations with how long it takes on current maps to get from flag to flag, or from base to flag. This is the result of introducing 128 players, combined with some of the biggest maps we've ever created as playspaces.
Dice even acknowledges in his statement to be aware of nicknames such as "Walking simulator" that some players have given to Battlefield 2042. So Dice promises to change location of spawns and flags on existing maps.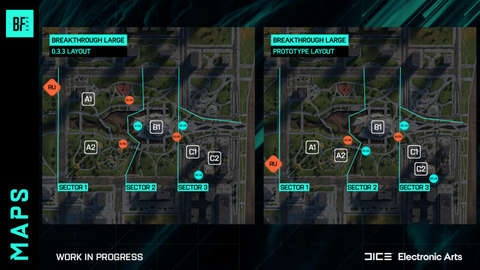 Smaller cards to come
Dice also explains that he took the decision to offer smaller cards in the futurecompared to the first cards revealed.
The most important action point for us is that bigger maps don't necessarily mean more freedom, playstyles or fun. You can therefore expect that future maps will be smaller than most of our launch cards. This also means that we are studying the possibility of reduce the number of sectors and the total number of capture points per card when playing with 128 players.

We will also examine the number of players in modes such as Breakthroughas well as types and number of vehicles which can be used on specific maps. For example, does it make sense to have Jets on Kaleidoscope if it's our smallest card? It is important to note that our goal is not to limit the options available, but rather to finding the right balance that will enhance your gaming experience.
Dice will therefore not only offer smaller maps, and review the number of points to capture, but obviously also intends to remove certain elements, on certain specific maps. Vehicles will no longer be available on certain maps, the shape of the cards could change from square to rectangular as on the old opuses, etc …
In his communicatedDice explains that he wants to improve various points of the game: the intensity of the fighting, the too large opening of certain maps (which makes long range weapons too effective), the cover system, routes between different objectivesetc… The studio has a lot of work to do, and they clearly identify it, which is at least a good point.
Dice release on EA's Battlefield 2042 blog.
Battlefield 2042 launched on November 19 on PC, Xbox Series, PS5, Xbox One, and PS4.
Read next:

By Damien ScalettaWriting jeuxvideo.com
PMTwitter
We want to give thanks to the writer of this post for this outstanding web content

Battlefield 2042: Maps will be smaller, Dice continues to overhaul its game