Sales figures, studio buyouts, financial statements, developer transfer window, investments… if these topics interest you, you've come to the right place. We offer you an update on the business news of the past week.
Summary
Call of Duty: the end of annual releases from 2023?

Guardians of the Galaxy sales below Square Enix's expectations

TT Games and Warner Bros exclusivity on Lego games ends

Dontnod takes stock of its projects: eight productions in progress, including six in-house

Nintendo buys long-time partner SRD studio

Briefly in the business news of the week
Call of Duty: the end of annual releases from 2023?
This is a subject that was put on the table with the announcement of the takeover of Activision Blizzard by Microsoft: what if Call of Duty no longer came out every year? Since 2005, the franchise has never missed its fall appointment, each year dominating the ranking of best sellers in the United States and in a good part of the globe. It will definitely make a comeback at the end of 2022 with a new Modern Warfare and a new Warzone experience, both of which will be led by Infinity Ward. In contrast, Treyarch's game that was supposed to be released in 2023 would not finally arrive until 2024.
This is reported by journalist Jason Schreier from Bloomberg. According to his sources, the disappointing sales of Call of Duty: Vanguard would have prompted Activision to review its schedule, some company executives now believe that the releases follow one another too quickly. Keeping up with this annual cadence seems to be more and more difficult since the release of Warzone in March 2020, which must constantly be supplied with updates, increasing the workload of developers who are constantly under pressure.
The feeling I've heard from the folks at Treyarch is that they're extremely excited about having another year of development. Back in 2019, I wrote an article that talked in part about how hard they had to stick to the rushed schedule of Black Ops 4. Here it's the reverse situation. – Jason Schreierjournalist at Bloomberg.
From a business point of view, the absence of a new Call of Duty in 2023 will have a huge impact on the market. Some publishers will no doubt see it as a window of opportunity to launch a new multiplayer FPS and thus satisfy the appetite of many fans of the genre. But obviously, the Call of Duty license will not disappear from the radar for a year. Activision will be able to bank on the next Modern Warfare and give it a longer post-launch follow-up than usual, not to mention "the massive evolution of Warzone" and the new Call of Duty mobile game in the works. Bloomberg also mentions the arrival of another "new free-to-play online title" next year, without further details for the moment.
For its part, Activision simply said the following in response to this rumor: "We have a range of free-to-play and premium content of exciting Call of Duty experiences for this year, next year and beyond".
Guardians of the Galaxy sales below Square Enix's expectations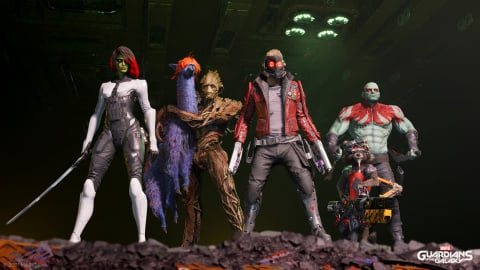 Released last October on PC, PlayStation and Xbox, the game Guardians of the Galaxy developed by Eidos Montreal has generally won over a good part of critics and players, as evidenced by its score. Metacritic or even its 95% of positive evaluations on Steam. However, this did not translate into commercial success, at least in the eyes of its publisher Square Enix.
"Despite excellent reviews, sales of the game at launch were below our initial expectations"can we read in a recent report on the financial results of the Japanese firm. "However, the commercial initiatives we launched in November 2021 and extended into the new year have resulted in increased sales, and we intend to continue our efforts to offset this slow start.", also indicates the document. After Marvel's Avengers, this is the second game based on the popular super-heroic license that does not meet Square Enix's objectives. The Guardians of the Galaxy game stood out for its 100% single-player structure and was particularly praised for its narrative qualities, but it undoubtedly suffered from the reputation of its predecessor or from insufficient communication.
Despite this disappointment, Square Enix is ​​on its way to completing a record fiscal year. The publisher achieved a turnover of 2 billion euros and a net profit of 302 million euros between April and December 2021. During these nine months, 29.45 million games stamped Square Enix were distributed worldwide through releases like Outriders, NieR Replicant, Final Fantasy 7 Remake Intergrade, Life is Strange: True Colors and Guardians of the Galaxy. The publisher was also able to count on the colossal success of the MMO Final Fantasy 14 Endwalker and its mobile games.
TT Games and Warner Bros exclusivity on Lego games ends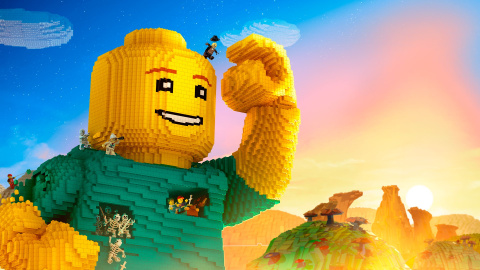 Since 2005, TT Games has exclusively developed Lego games. The British studio, bought by Warner Bros. in 2007, chained the productions and adapted many popular licenses like Harry Potter, Star Wars, The Lord of the Rings and Marvel with Lego sauce. But this exclusive partnership will end and will not be renewed according to VGC sources. The site reports that the Danish brand has signed with 2K Games for the production of several Lego sports games, including a football game developed by Sumo Digital (Sackboy: A Big Adventure) and an open-world racing game by Visual Concepts (NBA 2K). The first would be released this year around the 2022 World Cup, which will take place from November 21 to December 18, while the second would be scheduled for 2023.
What about TT Games? The studio of Warner Bros. would still have a Lego game in the program after LEGO Star Wars: The Skywalker Saga, which will be released on April 5, 2022 after several delays and production under trying conditions for its developers, as revealed by a recent investigation by polygon. Beyond that, it is not yet certain that TT Games will continue to work on Lego games. But if so, it won't be exclusive. This situation is reminiscent of the Star Wars license. Electronic Arts is no longer the only one able to work on it, but that does not prevent the American publisher from having new Star Wars games in preparation. Finally, remember that Warner Bros. also lost the film rights to the Lego license in 2020, which were transferred to Universal.
Dontnod takes stock of its projects: eight productions in progress, including six in-house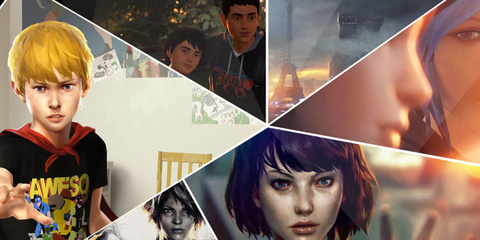 Dontnod multiplies the projects. The French firm released a communicated to take stock of its year 2021 and its areas of development, while announcing that it has signed a new co-production with the Belgian team of Studio TOLIMA.
Dontnod now has eight titles in the works, including two developed by partner studios. That of Studio TOLIMA therefore, which was founded in 2022, and Gerda: A Flame In Winter from the Danish studio PortaPlay. Regarding the six projects developed internally, none have been unveiled for the moment, but they are all expected on the market between 2022 and 2025.
We also know that Dontnod, known for its narrative games, wants "strengthen its production capacity in the buoyant action-RPG segment" starting with a certain '"Project 8″ co-produced by Focus Entertainment. We can assume that it is a sequel to Vampyr, released in 2018 and published by Focus. It was a great success with more than two million sales, not counting the 8 million downloads when it was offered on the Epic Games Store. "This co-production, which will be definitively amortized on December 31, 2021, constitutes the studio's greatest financial success to date alongside Life is Strange 1. Dontnod thus reaffirms its ability to develop successful intellectual properties", the statement said. The firm will also "continue its deployment in Montreal with the creation of a multi-project center with a strong narrative component carried by the creators of Life is Strange"".
The press release finally discusses the performance of Twin Mirror, which was released on Steam on December 1, a year after its launch on the Epic Games Store and consoles. ""Thanks to an economic model mastered since the acquisition of the intellectual property from Bandai Namco in 2018, Dontnod has managed to cover 75% of its investments on the project", we are told. Tell Me Why, which was published by Microsoft, is not mentioned.
Nintendo buys long-time partner SRD studio
Nintendo announced the acquisition of SRD (Systems Research and Development) for an undisclosed sum. A formality more than anything else: this shadow studio had already worked exclusively with Nintendo since its founding in 1979. As the communicatedthe main objective is to "secure the availability of studio resources for Nintendo" in addition "to improve development effectiveness".
As of April 2021, SRD had 139 employees. Led by Toshihiko Nakago, the Kyoto-based studio (like Nintendo) appears in the credits of older titles like Donkey Kong (1983), Super Mario Bros. (1985) and The Legend of Zelda (1986). Recently, SRD has worked on Switch games like Super Mario Maker 2, Animal Crossing New Horizons, Ring Fit Adventure, and more recently The Video Game Workshop.
This acquisition is reminiscent of that of Next Level Games, again a long-time Nintendo partner. The Japanese giant had decided to buy the studio responsible for Luigi's Mansion 3 and Mario Strikers Battle League Football in January 2021 to prevent it from being bought by another company.
Briefly in the business news of the week
Elden Ring had a huge launch on Steam, peaking at 891,638 concurrent players. This is the sixth highest spike across all games in the history of the platform, behind PUBG (3.25 million), Lost Ark (1.32 million), CS:GO (1.30 million), Dota 2 ( 1.29 million), Cyberpunk 2077 (1.05 million) and New World (913,634). On the other hand, the new game from FromSoftware collects only 71% of positive evaluations, many players pointing the finger at the optimization of this PC version.
441 games were successfully funded on Kickstarter in 2021 according to data from Ico Partners, more than any other year (429 in 2020, 413 in 2014). Some of the most popular projects of 2021 include

Friday Night Funkin': The Full Ass Game

($2.2 million raised),

Roots of Pasha

($355,388) and

GHOSTS

($246,846).
$ 1.5 billion is the colossal sum generated by the free-to-play Call of Duty Mobile since its release in October 2019 according to

SensorTower

.
Tencent acquired Inflexion Games (Nightingale). This studio was founded by Aaryn Flynn, who worked at BioWare for 17 years and even ran the studio for 2 years until his departure in 2017.
We would love to give thanks to the writer of this post for this remarkable web content

Call of Duty, LEGO, Nintendo… the business news of the week