news tip Elden Ring: how to play in 21/9 and beyond 60fps? PC mods already available
Your experience of Elden Ring on PC is a bit chaotic? Fortunately, a very interesting new mod is available for From Software's new event title, especially for those who have a good PC configuration…
Released on consoles a few days ago, Elden Ring is also available on PC. Not to mention the small technical problems that we hope to be patched later, two options are missing: the possibility of going beyond 60 frames per second, and being able to play in true 21/9 (without black bars). Good news however, a modder has taken care of adding these options in the game, via software. And other quite… practical options. Then follow our complete guide to Elden Ring, and also take a look at the mod that allows you to pause the game!
Summary
The mods available for Elden Ring: what you need to know

Elden Ring FPS Unlocker / Widescreen Compatibility

How to install the mod to unlock the framerate?
The mods available for Elden Ring: what you need to know
First of all, we would like to point out that Elden Ring has a Anti cheat, which "monitors" that you don't cheat online against other players in particular. This is why all cheats in the game must only be used in offline mode.
This software does not modify any game file, it just temporarily modifies the time of your game, the options checked. You will therefore have to "patch" the game each time you launch this software, so that it takes your changes into account. We remind you: Play offline on Steam !
Elden Ring FPS Unlocker / Widescreen Compatibility
Elden Ring FPS Unlocker is a mod which is usable on the PC version of Elden Ring. This one has several things to offer you, we summarize this: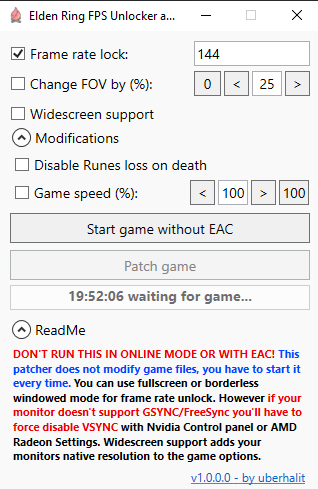 Frame rate lock: the first option is probably the reason why you intend to download this little software.
Change FOV by (%): this option allows you to change your field of vision, to have the camera more or less far from your character. This can be very useful: if you play FPS you are probably used to widening your view a little to the sides.
Widescreen support: an excellent option for all owners of 21/9 screens (Widescreen, Ultrawide): By checking this option, the native resolution of your screens will override the 1920×1080 resolution in game, which will save you from the black bands. Not to be used if you have a classic 16/9 screen!
Disable Runes loss on death: oh, we see you coming… this option will allow you, when checked, to not not lose your runes when you die !
Game speed:"' this option allows you to change the game speed. Want to go fast? Increase it! Want to feel like you're in the zone? Reduce it.
Here's how to install this mod if you have an NVIDIA graphics card. If you have an AMD graphics card, everything is explained on the developer's page..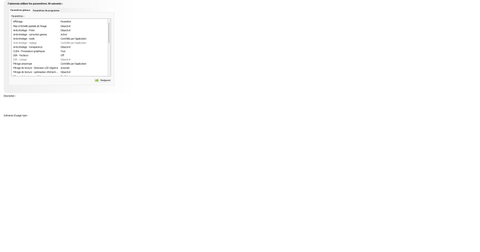 If you have an NVIDIA graphics card, start by opening the NVIDIA Control Panelthen go to View > Change Resolution to check that your Refresh rate is good at max (144Hz for us for example)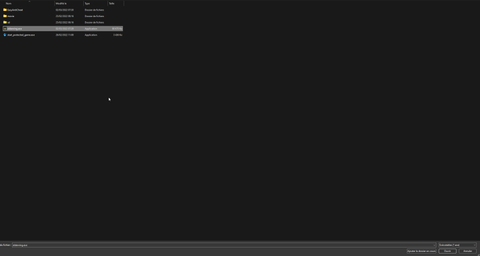 Then go to 3D Settings > Manage 3D Settings > Program Settings, and click Add "', and find your Eldenring.exe (which should be in the game's Steam installation folder). This will then appear and you can modify the options directly.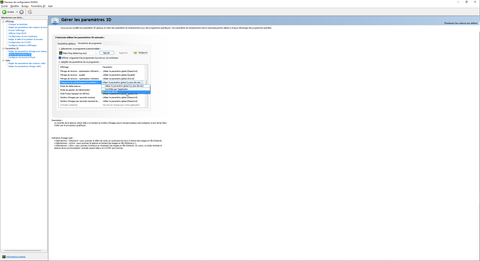 pass the Preferred refresh rate at The highest' and disable the Vertical synchronization. Then apply your changes. Then go over the Elden Ring FPS Unlockerchoose the number of frames per second you want and launch the game by clicking on Start game without EAC.
It's pretty good to see that unlocking the fps unlocker, as well as 21/9 compatibility, is handled by modders so quickly. However, we would like these 2 options to be automatically included in the game by From Software, but maybe they will appear with a patch later, who knows?
Elden Ring, complete solution: all our guides, tips and tricks

By TridashWriting jeuxvideo.com
PM
We would love to give thanks to the author of this article for this remarkable web content

Elden Ring: how to play in 21/9 and beyond 60fps? PC mods already available