news tip Elden Ring, multiplayer and co-op: how does it work? All our explanations
Being able to play with your friends in "Souls" is never very clearly explained by the game, and sometimes requires a few somewhat obscure steps. Elden Ring being no exception, we offer you a detailed explanation of the steps to follow to be able to play in cooperation, with friends (s) or strangers (s).
Are you tired of getting beaten up in Elden Ring despite gaining experience that you thought was enough? Is the feeling of loneliness in the face of adversity starting to eat away at your patience? Fortunately, it is possible to get help in From Software's latest title, much like many of the studio's previous productions. Much like Demon's Souls proposed, it is indeed possible to play multiplayer with friends, but to do this, you will have to go through a few steps first, because cooperation has its own limits! In Elden Ring's multiplayer mode, one player is considered a host, and all others join their world as ghost players to help them. We explain to you today in our complete walkthrough of Elden Ring how to proceed.
Summary
Do I need to be a subscriber to play online on console?

How do I enable multiplayer in Elden Ring?

How does co-op work in Elden Ring?

Can you be summoned by random players?
Do I need to be a subscriber to play online on console?
First, if you play on console (PlayStation 4, PlayStation 5, Xbox One or Xbox Series), please ensure that you have a subscription to the builders' online services (Xbox Live Gold or PlayStation Plus), which are required to play online at Elden Ring. This multiplayer will not be accessible if you are not a subscriber.
There are several steps to follow to start multiplayer in Elden Ring. First, all affected players should go to the menu and then to "Multiplayer"; then go to "Settings" then choose an identical password: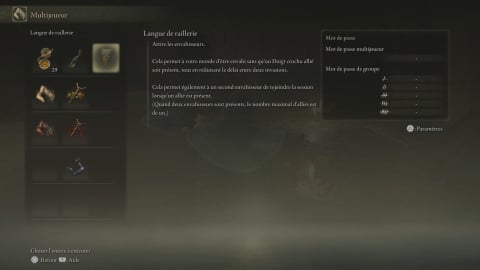 People wishing to help another must then use the Item "Little golden effigy". Rest assured, it is an object that you will obtain very quickly, since it is given to you by accessing the first grace of the Necrolimbo, after completing the tutorial.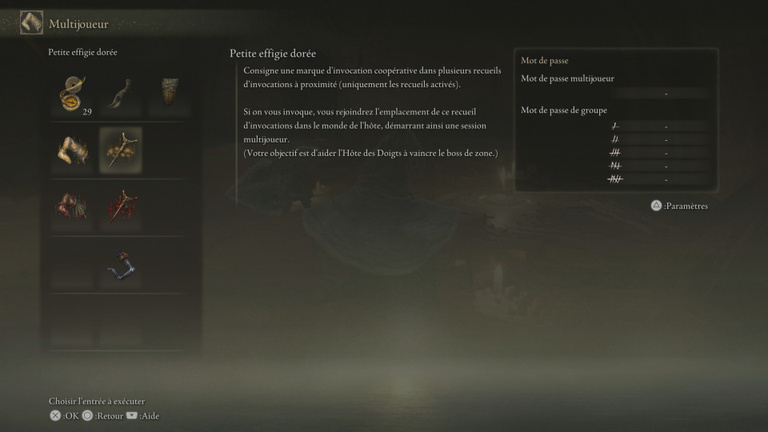 The person wishing to receive help from his friends must ensure that he has touched the statue allowing to summon in this area (these are the same statues used for spirit summons). They find themselves either at the start of the dungeon, or next to the grace, or in front of the boss. If there isn't, cooperation is simply not possible for that area of ​​the game.
Once active, retouch the statue to be able to summon your friends.
Players summoned as cooperative Golden Ghosts are not as powerful as they were in their own world. They have half the number of flasks they would normally have, and their stats are generally weakened in order to prevent two high level players from stomping the bosses to help their lower level friend. A maximum of three people can play cooperatively at the same time, that is, a host and two friends who help him. Finally, please note that cooperation is not cross-platform: if you play on Xbox Series, you will not be able to play with someone who has the game on PS5 for example.
Can you be summoned by random players?
For players who would like to be summoned by anyone, it is possible to use a multiplayer menu item called Shinless' Hooked Finger, right next to the Small Golden Effigy. This option allows to place a gold symbol where the player is, symbol which will appear in the games of random players and which can be triggered by them: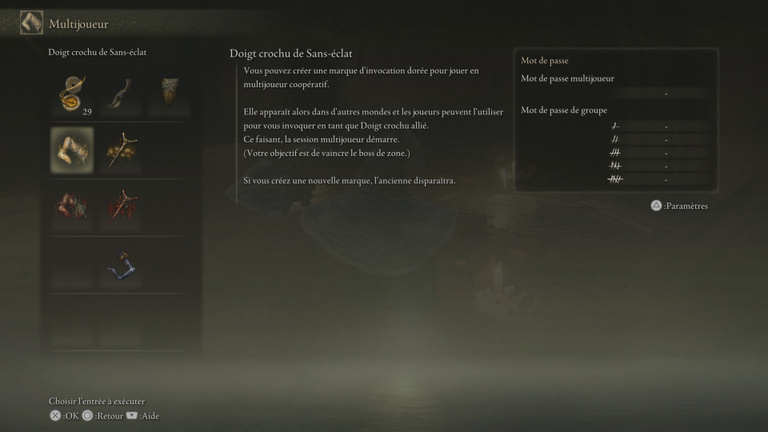 However, these symbols can't be seen until the potential host uses an item from this menu, called Hooked Fingers Remedy. They are invisible and unusable until he does. So if you want to summon allies, use the remedy and you will see the symbols left behind by those who used this tarnished denier.
Elden Ring, complete solution: all our guides, tips and tricks
By AntistarJournalist jeuxvideo.com
PMTwitter
We would like to say thanks to the author of this write-up for this incredible web content

Elden Ring, multiplayer and co-op: how does it work? All our explanations