news tip Gran Turismo 7: get a lot of credits and say no to microtransactions with this tool
Fans of the Gran Turismo license have been disappointed several times this weekend, first by long-term maintenance, then by a change that pushes them to go through microtransactions. If, like many, you don't want to spend more money on Gran Turismo 7, you've come to the right place: we've found a tool that can help you escape microtransactions.
Summary
Big Deal 7

How to use a script to farm credits
Big Deal 7
It's been a rough weekend for Gran Turismo 7. After updating to version 1.07a major unidentified problem forced the developers to do maintenance on the game, making it almost completely inaccessible for more than 24 hours because of its compulsory connection to the Internet. Only modes Arcade and Rally Music were playable during this period, preventing fans of the license from progressing in the mode Countryside for much of the weekend. Fortunately, the game was able to be restored after this considerable delay, now upgrading to version 1.08.
But maintenance is far from the biggest problem of Gran Turismo 7: among the changes brought by patch 1.07, we find a noticeable drop in credits obtained after a victory. This modification makes the most coveted cars even more inaccessible than before, and pushes players to turn to microtransactionswhich is quite surprising considering the game's base price. Furious gamers spent the weekend writing negative reviews of Polyphony Digital's game, dropping its user score on Metacritic. At present, this figure does not rise higher than 1.8making Gran Turismo 7 the lowest rated game of all time.
Unfortunately, the players remain penalized, and it is difficult to motivate yourself to chain the races when you know that the reward will not be up to the mark. That's why one player in particular decided to take matters into his own hands by creating a script allowing you to farm credits without lifting a finger… We explain everything to you:

The hero of the day, nicknamed Septomor on the forum PSN Profiles, has found an almost infallible method to accumulate credits without getting tired. Thanks to a script and a software allowing to play remotely on PC, you can go about your business while the game runs errands for you and earns you maximum credits. Be aware, however, that it is possible that this method of farming goes against the Gran Turismo 7 Terms of Service and either liable to banishment, although no announcement has been made about it at this time. It's up to you to decide if you want to take the risk of using it. If that is the case, you will have to perform a few maneuvers beforehand for it to work:
Step 1
To start, you will have to download some stuff. First, you will need software that allows you to play remotely. To do this, you can download PS4 Remote Playwhich also works for the PlayStation 5. Next, you're going to need to get a script on this page. Choose the script that suits your version of the gameeither PS4 or PS5.
2nd step
Now that you have installed your software and downloaded the script that suits your version of the game, you will be able to start Gran Turismo 7 on your console and make the final preparations. All you have to do is follow the instructions below:
Select the SRT Tomahawk S VGT and modify it as follows: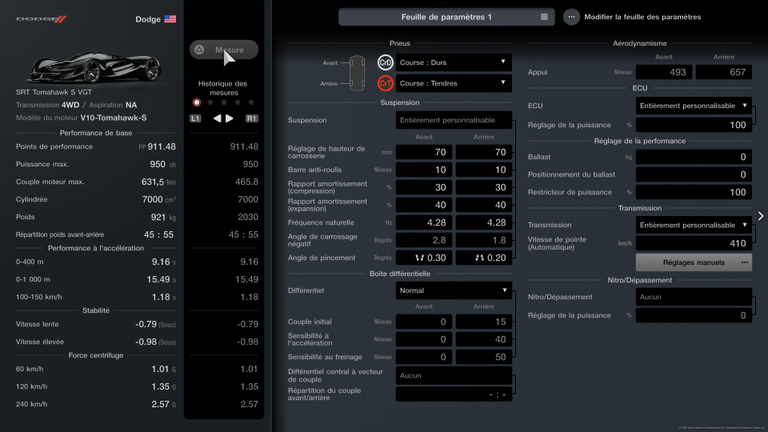 Change game controls in this way :

Control the steering wheel with the directional keys
Accelerate with
Nitro / overtaking with

Activate the automatic gearbox and the power steering.
Choose the Pan American Championship and start the race. Press on Pause and hover over the option Try again.
Launch it PS Remote Play on your PC, and press Start Where Options to log in to your console.
Double click on the script to open it and press Start on the window that appears when you are ready.
Note that this script is currently only compatible with Windows, and the PS Remote Play window must be visible for it to work. It doesn't have to be your active window, it just shouldn't be hidden. With this script, you should be able to do about 625,000 credits per hour on PlayStation 5and a little less on PlayStation 4 because of the loading screens.
And you, what do you think of the changes brought by the 1.07 update? Will you continue to play Gran Turismo 7? Tell us everything in the comments!
Summary of the Gran Turismo 7 walkthrough
We want to give thanks to the author of this short article for this remarkable material

Gran Turismo 7: get a lot of credits and say no to microtransactions with this tool