Game News Have a Nice Death: Death returns to service in a hilarious trailer, dated early access!
A long time ago, it was the Grim Reaper herself who took care of collecting souls before landing behind her offices at Death Inc. Determined to set the record straight with her employees who are crumbling under paperwork, Death has pulled out his scythe. But before leaving her minions in charge, she takes the time to brief you with the help of a fun trailer, sprinkled with a little gameplay!
Summary
Welcome to Death Inc.

The CEO is going to hand out sanctions
Welcome to Death Inc.
Far from being yet another 2D rogue-lite, Have a Nice Death plays on one of its greatest assets: its script. This is why the Magic Design Studios teams have decided to give news of their next game by unveiling a funny video on the situation in which the multinational Death Incorporated finds itself: a fun way to present the next generation of rogue-lite and to justify the quest for this dear Grim Reaper who borders on burnout behind her desk.
The trailer, available at the top of the article, puts us alongside a young recruit to whom we explain the operation of the company, while reviewing the different branches of the company. Quickly, we meet Death, a taciturn character who runs on caffeine and who swears by work. The narrator takes the opportunity, moreover, to retrace the history of Death Incorporated and what prompted the CEO to trade his scythe for a stamp and A4 sheets.
However, Death's genius idea when building her society, the Scourges, eventually backfired. Anything but framed Death's creations eventually made her adopt a boring bureaucratic lifestyle, but she is now determined to get back into the field and pull up the suspenders of her zealous employees.
The CEO is going to hand out sanctions
As mentioned above, Have a Nice Death takes the form of a two-dimensional rogue-lite that takes place through a succession of procedurally generated levels, that is to say in a random way, to go and lecture your subordinates. For it, Death will be able to exchange his iconic scythe for a wide range of weapons – around thirty listed – and a gallery of devastating spells.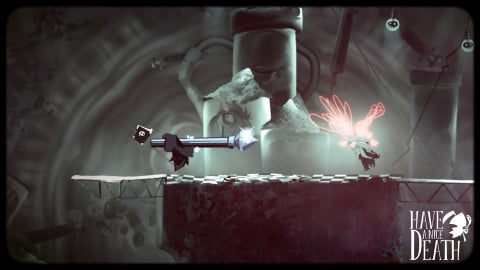 Magic Design Studios' game will be able to count on the frantic action of its title and on its hand-animated animation to make players want to apply to Death Inc., but the task will not be so simple! Indeed, the Scourge have led a kind of rebellion internally and it will not be only them in your way: their henchmen will come to put a spoke in your wheels, and to hope to defeat the bosses of each department, you will have to do it several times, rogue-lite obliges!
In addition to this new trailer, Have a Nice Death has another good news for those who are waiting for the game on foot: early access starts very soon, on March 8th. You can already go to the page Steam of the game to add it to your wishlist: note that you will have to pay € 14.99 to embody the revived CEO of Death Inc.

By JinxebWriting jeuxvideo.com
PM
We want to give thanks to the writer of this short article for this incredible web content

Have a Nice Death: Death returns to service in a hilarious trailer, dated early access!