Announced at CES in Las Vegas last January, the 2022 Alienware novelties were presented to us yesterday in Paris during a private showroom, in the company of product managers from Dell (the parent company of Alienware). The star was undoubtedly the presence of the Alienware AW3423DW, the very first QD-OLED display for PC on the market.
Triumph in Las Vegas
Its announcement, on January 4 at CES in Las Vegas, very quickly left the surprise aside to arouse envy and admiration. To everyone's surprise, when we were just expecting a refresh of the X and M series for laptops, it was indeed a large ultrawide screen that Dell and Alienware pulled out of their hats for us. A nugget rewarded by the price of innovation in Las Vegas, excuse the little!
And not just any screen, no no, the very first in history with a QD-OLED type panel, borrowed from Samsung, which it also shares with the future 34-inch Odyssey G8QNB and which should be released more late in the year.
While OLED is present everywhere in high-end TVs, smartphones or connected watches, it was until then strangely absent from the PC screen market. There are indeed a few laptops equipped with OLED panels or professional screens such as the LG 32EP950 for example, but on the side of desktop computers or for gaming, nothing, nada, only chi, walou… Until now!
OLED where are you?
The absence of OLED PC displays so far is a combination of several things. The first is the lack of visibility and uncertain profitability. Basically, no one wants to enter the market for fear of screwing up and losing a lot of money.
The second is that the manufacturers who master this technology are two in number, LG and Samsung, which thus marks its return to the OLED market with a small variant of its own, the QD-OLED. It was therefore imperative to pool production to be profitable, which Alienware and Samsun did.g and which allows us today to discover the Alienware AW3423DW, the screen of the future that we have all been waiting for.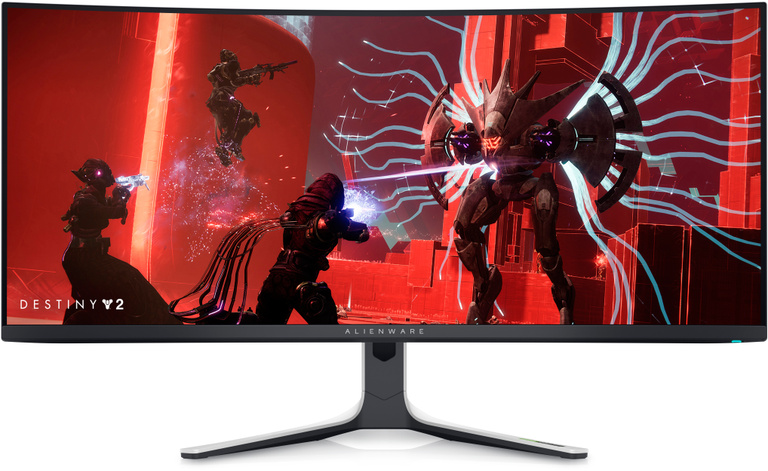 A last point, and not the least, which could slow down the arrival of OLED in the world of desktop PCs in general and gaming PCs in particular, is always the famous story of "burn-in", you know, this famous story of screen burn, a rare but very real thing, present on the first generations of OLED panels. Basically, the risk, when you leave a still image displayed on the screen for too long, the latter may be marked by the logos or banners of the TV channels, and this, sometimes irreversibly.
On TV, the phenomenon disappeared a long time ago, on the one hand, because we never remain stuck on the same channel for several hours (whatever…) and whatever we watch, there is always a little movement. This is far from the case with a computer and a desktop under Windows. But all that is ancient history, we are promised, and Here we are finally facing the first QD-OLED screen for PC in history and we must admit that it gave us a certain emotion.
With the Alienware AW3423DW monitor, a glimpse of the future
While waiting to be able to test it at the editorial office with games and our entire battery of in-house tests, we were finally able to see in real life this screen that everyone envies and which is full of promise, but also with some doubts and uncertainties.
The first impression when you are in front of him is just "Waouuuuh"! A slap to the right, a slap to the left, no, we're not dreaming, he's there, in his magnificent white and black dress and his subtle turquoise blue backlighting specific to the brand. The curvature is light (1800R against 1000R for the Odyssey G7 for example), but sufficient to encompass us in its universe without distorting the image and our vision.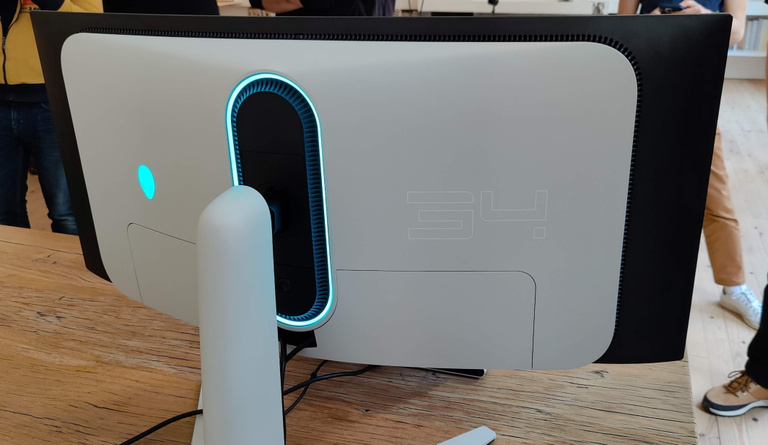 Nothing to say, we immediately feel the quality and we quickly see that we are in front of an exceptional product. We will have to test it to find out more and realize all its qualities, but the promise of this long-awaited QD-OLED panel is to offer the best of both technologies, namely absolute blacks, more accurate, more real colors, but also excellent brightness and the best HDR content. In short, a perfect world on paper.
As a reminder, this Alienware AW3423DW screen is features a 34-inch diagonal with 3440 x 1440p resolutionmore commonly called WQHDa 175 Hz refresh rate and a response time of 0.1 ms !. It thus sports a format called Ultrawide 21:9 type. It's a rather special format, quite confusing at first, but once you've tasted it, you can't live without it. It's simply our favorite format and many of us at the editorial office work and play with a Huawei Mateview GT 34 for example.
Back to the future
Among all its other characteristics, we note the presence of a G-Sync Ultimate certifiedsomething rare enough to point out, which offers it optimal compatibility with the latest Nvidia GeForce RTX 30xx graphics cards. On the HDR side, Alienware announces a double certification, DisplayHDR 400 True Black and Display HDR1000, as well as a maximum brightness of 1000 nits

On the connection side, it will be necessary to rely on one DisplayPort 1.4 input (essential to take advantage of 165 Hz) and two HDMI 2.0 inputs to play up to 1080p or 1440p (console dependent) at 120 fps. Note the presence of a USB HUB with no less than 4 USB ports, always practical to avoid rummaging behind your tower. Finally to finish, Dell offers a 3-year burn-in warranty, which means that they are quite confident on this point. We would still have plenty of other things to tell, but we will keep the rest for the test!
Announced at CES in Las Vegas earlier this year, the Alienware QD-OLED AW3423DW gaming PC screen has been available for sale since March 22 on the Dell or LDLC sites, for example, at a price of €1,299. An unexpected price for such a technological showcase and the usually high pricing policy at Dell and Alienware.
Buy the Alienware AW3423DW QD-OLED PC screen at 1299€ at LDLC
---
This page contains affiliate links to some products that JV has selected for you. Each purchase you make by clicking on one of these links will not cost you more, but the e-merchant will pay us a commission.
Learn more.
We want to thank the author of this write-up for this remarkable content

Here is finally the first QD-OLED gaming monitor: what about the Alienware AW3423DW