news tip Tiny Tina's Wonderlands: Warning! don't use this legendary weapon, you may regret it
If you've ever played Borderlands, you know that the developers like to slip a little crazy weapons into the arsenal available in game. Know that Tiny Tina's Wonderlands is no exception to the rule, and you'll have to learn to read the description carefully to avoid being tricked.
Summary
The best defense is a good joke

A legendary weapon that is part of the myth

The best legendary weapons in Tiny Tina's Wonderlands
The best defense is a good joke
Tiny Tina's Wonderlands released just over two weeks ago, and loyal players are starting to rack up quite a few hours on the Borderlands spin-off. Who says hours of play, also says leveling up, and it is very likely that fans of Tiny Tina's tabletop role-playing game are actively seeking equipment to match their prowess. Fortunately, 2K Games' latest title has no shortage of quality weapons and armor, but those familiar with the Borderlands universe know that the developers love to play tricks on players, and as you might expect, Tiny Tina's Wonderlands is no exception.
Fans may remember bane, a unique weapon in Borderlands 2 which, in addition to considerably reducing the movement speed of the character who equips it, has a rather special voice module. Indeed, each time you fire this submachine gun, it emits an indescribable and particularly annoying sound. Borderlands 3 has done it again with the Girth Blaster Elitea legendary gun capable of firing darts that can latch onto enemies and the environment, but which inflicts almost no damage, like a Nerf gun. Now it's Tiny Tina's Wonderlands' turn to prank its players with a devastating legendary weapon… for single use. We explain to you:
A legendary weapon that is part of the myth
With its incredible stats and bonuses, and even the ability to recover life by inflicting damage, the Ancient Greatbow exceeds all adventurers' expectations. With it, you will be able to unleash all your power on hordes of enemies who will only be able to tremble before the magnitude of your legendary weapon. In any case, it would be if this sniper rifle did not lose all its effectiveness after a single use. Indeed, as soon as you use the Antique Greatbow even once, it then becomes a Used Antique Greatbow, and its description changesas you can see below: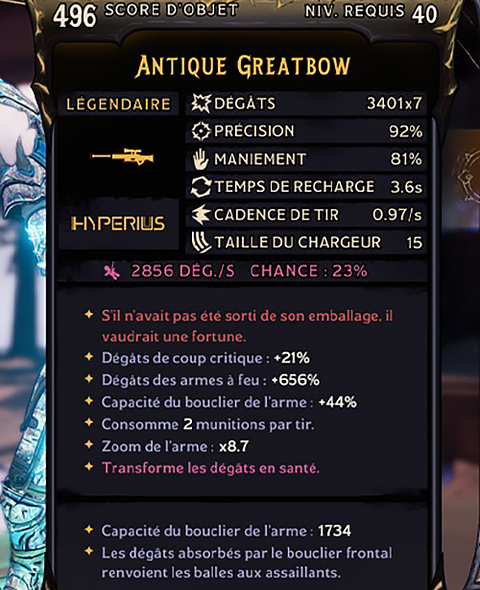 The Antique Greatbow therefore lives up to its title of legendary weapon, since its incomparable power is in fact a myth. Once worn, the damage of the Antique Greatbow is divided by 10, the bonuses are transformed into penalties, and it also loses all its value. Before use, this sniper rifle is worth approximately 40,000 goldwhich is far from being a negligible sum, unlike the sum for which you can resell it afterwards, which is between 8,000 and 11,000 coins depending on the weapon's statistics. If you come across this weapon, we therefore advise you to sell it to fill your pockets rather than letting it gather dust in your inventory if you are too afraid to use it. But don't despair, there are other legendary weapons that, unlike the Antique Greatbow, are no jokes:
The best legendary weapons in Tiny Tina's Wonderlands

As a general rule, the legendary guns are among the best weapons in the game. We then find weapons like the Apex of Rushing River and the Packleader's Perceiver of the Peakbut especially the Liquid Cooling of Impatience. This weapon, similar to an SMG, has a very high rate of fire, and is equipped with a infinite charger. Its one and only limitation is overheating, which renders the weapon unusable until it cools down, but with a little practice you should be able to avoid this minor issue without any problem, and take advantage of its elemental abilities with a suitable build.
For players who prefer close combat, we can recommend the Frosting Swodsplosion of Blastoffa shotgun capable of inflicting monstrous damage by launching sword-like projectiles at your enemies. Each stuck sword increases damage by 30%, but also increases ice damage by 30% as long as the action skill is active. It would also be a good idea to equip this weapon if you are playing in a team with an adventurer who has the Liquid Cooling of Impatience for maximum ice damage.
And you, have you fallen into the trap of the Antique Greatbow? What is your favorite weapon in Tiny Tina's Wonderlands? Tell us everything in the comments!
Summary of the Tiny Tina's Wonderlands walkthrough
By mooneraWriting jeuxvideo.com
We want to thank the author of this article for this incredible content

Tiny Tina's Wonderlands: Warning! don't use this legendary weapon, you may regret it