News hardware Understanding the Samsung TV ranges: what do all these letters mean?
Samsung is a particularly good company in marketing. The site is pretty, the names of the proprietary technologies are catchy, the ads are well done… so be it. Nevertheless, when it comes to televisions, you can quickly get lost in the middle of all these letters and all these numbers. "Why is my sublime 8K TV called QN65Q900RBFXZA?". You will see it, each letter, each number, has its meaning and we will decipher it.
Samsung TV model code: what is it for and where to find it?
Samsung is the world leader in the television market. This leadership position was won largely thanks to a specific strategy: the Korean company tries to cover the needs of just about anyone. As you can imagine, to cover a maximum of needs, it is necessary to release a maximum of TVs each year.
If certain ranges are entitled to a strong and simple name to remember, like the famous "The Frame", this may not be the case for all TVs. Samsung has therefore implemented a fairly precise "model code". After the 5 minutes of reading this article, you will understand this code.
The model code for your TV can be found on the box, on the invoice, behind the TV, or, at worst, in the menus (go to "Support" then to "About this TV").
What good is it to know him? A lot of things: satisfying your curiosity, understanding what you have/what you are buying, but also simply reacting more easily in case of problems.
You know everything, let's get to the heart of the matter.
Up to 2000€ discount on TVs on the official Samsung website
Not all information has the same importance on the model code of Samsung TVs
We agree with you, most TVs have names to sleep outside. That being said, the first thing you should keep in mind when you see an extended model code is that there is no point in holding it all back. To identify your TV, only the middle letters count.
Let's go to the Samsung site to take the first TV that passes under the mouse. So here is the QE65Q80AAXXC. Here you can remove almost the entire code. This TV is a Samsung Q80A.
It is by this "shortened" name that any professional in the field will call him. It is not this shortened name that you will find tests on the internet, that you will be helped by an after-sales service etc.
The other letters give a lot of information, we'll come back to that, but remember that all that matters is the part of the code that comes just after the first number and ends just before the long string of letters.
Is it still fuzzy in your head? It's normal, we explain everything.
What does each letter and number mean in the "code name" of a Samsung TV?
Here is the meaning of each element. After this summary understandable at a glance, we will go into a little more detail for people who are not at all tech-savvy.
Let's keep our example from earlier.
QE65Q80AAXXC
Q = Display Technologyhere QLED (LED TVs are designated by the letter U);
E = Destination markethere Europe (the letter N is for the United States and A for Asia);
65 = Height in inches ;
Q = Presence of specific technologyhere "quantum" technology;
80 = Serial number (note that if this number has 3 digits, it is an 8K model);
A = Year of marketinghere 2021 (in 2022… it is B);
A = Generation of the range (here, it is therefore the 1ʳᵉ);
TXXC = Technical Specifications (tuner, designer…).
So you understand why only the "Q80A" suite counts to capture the essence of the product. Let's go back to the most important technical aspects. Beyond knowing what the letters mean, you also need to fully understand them.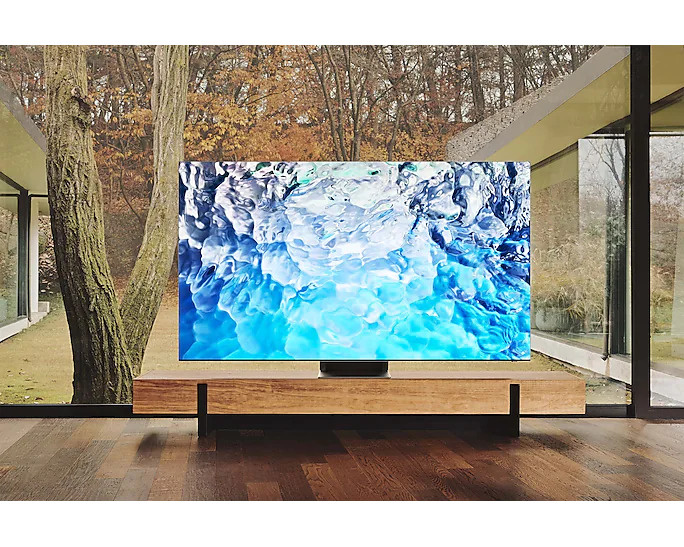 In the world of televisions, not all panels are created equal. In the current market, there are 3 display technologies. Classic LED TVs, OLED TVs that do without backlighting to achieve an infinite level of contrast and Mini-LED TVs whose backlighting diodes are 40x smaller.
To compete with OLED, whose production cost is particularly high, Samsung has created an acronym with a similar spelling: QLED. The idea is to use "nano-crystals" reactive to light, "quantum dots" which come to rest directly on the backlighting diodes of a classic Full LED TV. Clearly, this makes it possible to approach the level of contrast and color fidelity of OLED for much less.
Proud of its technology, Samsung recalls its presence twice in the name of the product. Note also that the "Q" of quantum is also used to designate the "Quantum Processors", which are the powerful chips inside some of the brand's TVs.
Regardless of the manufacturer, the first pair of numbers in a TV name is always its height in inches. The standard 4K TV is 55 inches, but there are models in a bunch of different sizes. Remember that one inch is equivalent to approximately 2.5 centimeters diagonal.
Everything else is pretty clear and doesn't need to be explained. We could go into detail about what the letters "TXXC" mean, but this article would become 4 times longer and jargon. It's not the most important.
This page contains affiliate links to some products that JV has selected for you. Each purchase you make by clicking on one of these links will not cost you more, but the e-merchant will pay us a commission.
Learn more.

By WarialJournalist jeuxvideo.com
We wish to give thanks to the author of this short article for this remarkable content

Understanding the Samsung TV ranges: what do all these letters mean?