Four months after the release of the first episode, the very young series Voice of Cards already welcomes a second opus with The Forsaken Maiden. We find there once again Yoko Taro, creator of Drakengard but especially of NieR, and all his team behind this new project. But while the first game had been praised for its original principle but criticized on many other aspects, did The Forsaken Maiden learn from its elder?
Seeing the continuation of a game four months after the release of the previous one: this is indeed an increasingly rare practice in video games that we have not seen since the 80s, 90s. And yet, that is what arrived at this Voice of Cards: The Forsaken Maiden, which took everyone by surprise when it was made official a few weeks ago. It must be said that the first episode of this very young series, Voice of Cards: The Isle Dragon Roars was announced at the beginning of September 2021 for a release at the end of October on PC, PS4 and Switch.
And since it is still a very young Square Enix saga of modest scale, let's take the opportunity to explain what makes it original. Voice of Cards is therefore (now) a series of turn-based J-RPGs which have the particularity of taking place in worlds entirely made up of cards, as indicated by his name. The whole plot is told by the voice of a single narrator in the form of an experience halfway between a role-playing game and a board game since you move a pawn on squares represented by cards , while being regularly interrupted by random fights.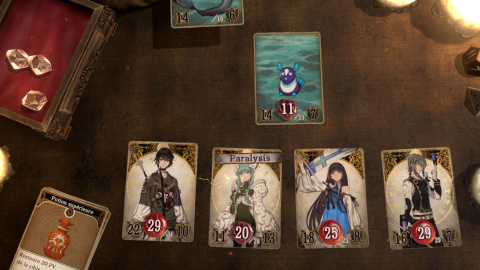 Behind this concept, we find Yoko Taro, creator of the Drakengard and NieR sagas, as well as several of his regular collaborators such as composer Keiichi Okabe or illustrator Kimihiko Fujisaka. However, Voice of Cards is not a card game since there is no question of building decks like in a collectible card game for example. In reality, the title is closer to a classic turn-based J-RPG like the old Dragon Quest or Final Fantasy, since we fight with a team of characters who all have their own abilities, equipment and other statistics. .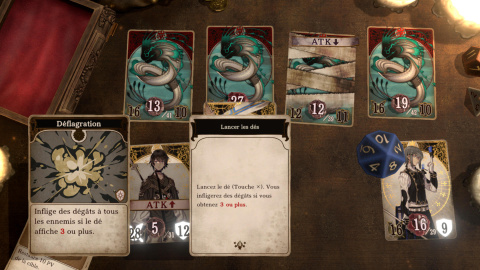 An experience that draws lessons from its elder…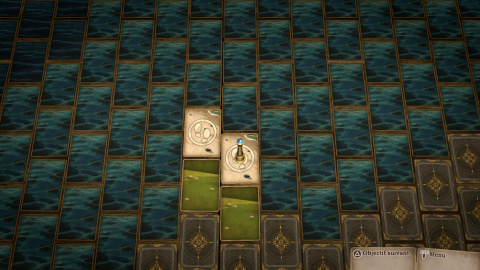 Now that the basic concept of Voice of Cards has been explained, it's time to talk about the new features of this second episode which is not a direct sequel to the original game. After The Isle Dragon Roars dragon hunt, the action of The Forsaken Maiden takes place in an archipelago populated by spirits, nestled in the heart of a paradisiacal ocean. On each of its islands, Priestesses accompanied by their Guardians perform a ritual to call upon the power of the Spirits and thus ensure the protection of the islands. But among the five islands of this archipelago, there is one that has no Priestess and is therefore condemned to wait for its fateful extinction.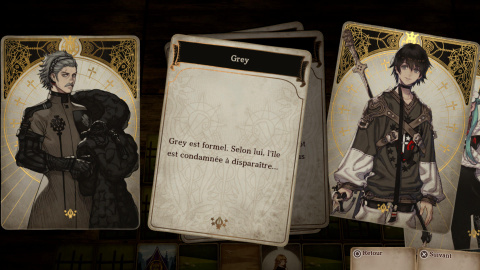 In this context, we play a young navigator named Samjïn who wants to save his village from its tragic destiny. By chance, he meets a mysterious young girl who has lost her voice and her powers, named Alva. Thanks to revelations from Silla, a stuffed animal who claims to be a spirit, Samjïn learns that Alva could become a Priestess if they manage to collect the relics of the other four Priestesses. And so begins the journey of our heroes to save their island from destruction. If the starting point of The Forsaken Maiden is quite classic, this trip is an opportunity to meet the Priestess/Guardian duos from the other islands who are often entitled to touching stories to tell. Indeed, unlike the first game which made fun of heroic fantasy codes to better divert them, here, hints of humor are rarer and the screenplay favors more intimate stories that are effective and often well written thanks to many surprises and reversals.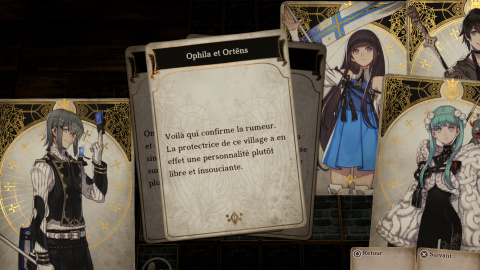 The adventure is all the more pleasant to browse because beyond its original basic concept, its artistic part is still as neat as ever. First of all, it must be recognized that Kimihiko Fujisaka (the Drakengard series, Terra Battle, NieR Replicant ver.1.22474487139…) offers once again illustrations of great beauty thanks to the very elegant style of its author. It must be said that in such a minimalist title, the illustrations play a central role in defining the characters since the latter speak only through the voice of the narrator. We can also recognize thata melancholic atmosphere emerges from The Forsaken Maiden thanks to the soundtrack supervised by Keiichi Okabebest known for having composed the music of NieR and NieR Automata, which offers songs that give a unique atmosphere to the title.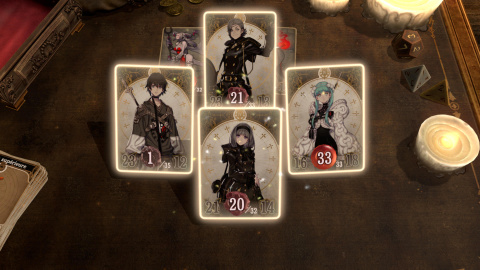 … for a more controlled result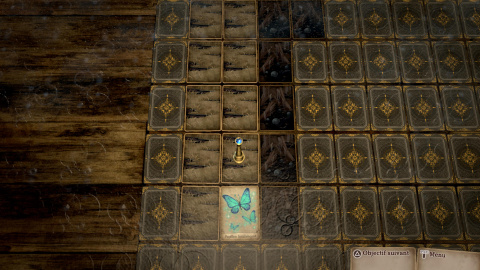 Beyond its more intimate plot, The Forsaken Maiden has above all been the subject of many improvements compared to its predecessor which make the experience more pleasant. First, while the first game was criticized for being slow, this second episode allows (finally) to accelerate the game speed at any time thanks to a simple key press. Option which is also available in The Isle Dragon Roars since an update last December. This feature quickly turns out to be vital when you realize that the random fights of this second opus are still as numerous, which tends to cut the pace of exploration a little too much and end up making it sometimes painful. It is also the only defect inherited from the original game that we find here, since the same goes for ergonomics in certain menus which can still be improved.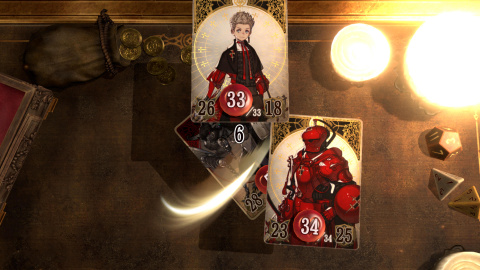 As for fights, several subtleties have been added to allow more variety during clashes. First of all, at each island the player goes to, he is led to be accompanied by the local Priestess and her Guardian. In terms of combat, this means that we regularly change teammates and therefore the way of approaching each confrontation. What's more, each new pair is entitled to a duo attack of its own and who, by his power, consumes a large number of magic gems. As a reminder, in Voice of Cards, you gain a magic gem each turn and the latter can be spent to use an ability. Obviously, the most effective are also the most greedy.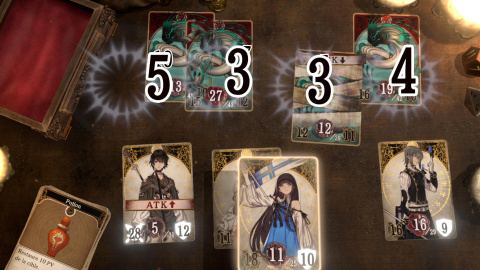 Finally, we can also mention other small adjustments: increase from three to four characters maximum on the ground, increase in inventory from 30 to 50, gain of a gem when you pass your turn, each companion has now five skills in the field instead of four etc… Say like that, all these elements seem to be points of detail, but put end to end, the adventure gains in comfort, but also in tactical possibilities. Especially since this second episode has been rebalanced compared to its elder in terms of its difficulty. Indeed, The Isle Dragon Roars also had the fault of being a little too easy and of only offering a response against its final boss. The Forsaken Maiden is doing better, since without being difficult, the game will simply ask you to play smart and stay focused during fights.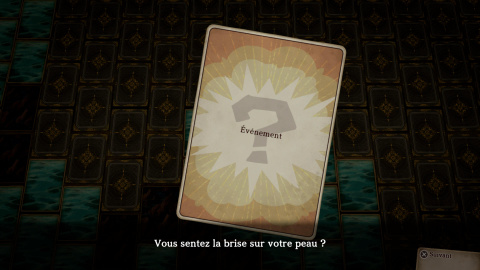 Despite all these few subtleties that we have just mentioned, it must be mentioned that this new episode of Voice of Cards is still extremely similar to the original game. Apart from its new story and some gameplay improvements, the two experiences remain almost identical, so don't expect any big changes. In this sense, those who did not like The Isle Dragon Roars are unlikely to appreciate The Forsaken Maiden. On another side, this result is hardly surprising given the delay between the release of the two gamesbut also the reduced size of the team and the budget allocated to this kind of production.
Conclusion

Strong points
A concept that still shines as much for its originality and minimalism
Finally the possibility to accelerate the game speed
Slight gameplay updates that improve combat options
Less funny, but more touching and always surprising writing
Sublime illustrations by Kimihiko Fujisaka
A haunting soundtrack, directed by Keiichi Okabe
A fun bonus card game
Weak points
A logical absence of novelties for a game released four months after the first
Still too many random fights
Some ergonomic concerns in the menus that persist
Drawing lessons from its elder, Voice of Cards: The Forsaken Maiden is a more controlled experience than The Isle Dragon Roars. Touching story, gameplay adjustments, ability to speed up the game… The main criticisms of the original game have been heard. But if we find the charm of this original concept thanks to its minimalist side and its neat artistic part, the title remains logically very similar to its elder by its short development time. The result is certain flaws that are still present, such as random battles that are still as numerous. It now remains to be seen whether Alim and Yoko Taro's teams will continue on this sustained pace of publication after this more successful second attempt.
Readers' opinion

Give your opinion on the game!

By TheXsableJournalist jeuxvideo.com
We would like to give thanks to the writer of this article for this outstanding material

Voice of Cards: The Forsaken Maiden game review