Bill Halley, Carl Perkins, Eddie Cochrane, Gene Vincent, Elvis, Little Richard, Buddy Holly, Jerry Lee Lewis, Chuck Berry … In less than ten years, rock and roll is a style of music that managed to tune into adolescent fever ( North) American postwar era, saw how its heroes were falling from grace, and with them, the genre itself, not without first laying the foundations for what would come later and continues to this day: rock, without roll.
Rejections of the entertainment industry of the time, accidents, overflowing lives, tragedies, drugs and bad decisions, added to a change of era, made rock and roll an extraordinary event, but surprisingly short-lived. One of those disgraced heroes is the second to last on that list: the fireproof and irascible Jerry Lee.
Cultivator of a wild style to play the piano and with a life full of scandals and provocations dedicated to his own and strangers, this son of a family as poor as religious in the state of Louisiana enrolled in music from a very young age, when he was just 16 years ago he sneaked into nightclubs to listen to the blues.
In 1956, at the age of 21 … and two marriages (yes, two because he married his second wife without having divorced the first) he traveled to Memphis to try his luck at Sun Records, Elvis's label. There he recorded his first songs, including "Crazy arms" and "Endf of the road."
Nicknamed "The Killer", the first great event of his life as a musician happened at the end of that year when in an impromptu session he recorded a handful of songs with Elvis, Carl Perkins and Johnny Cash. They were christened the Million Dollar Quartet.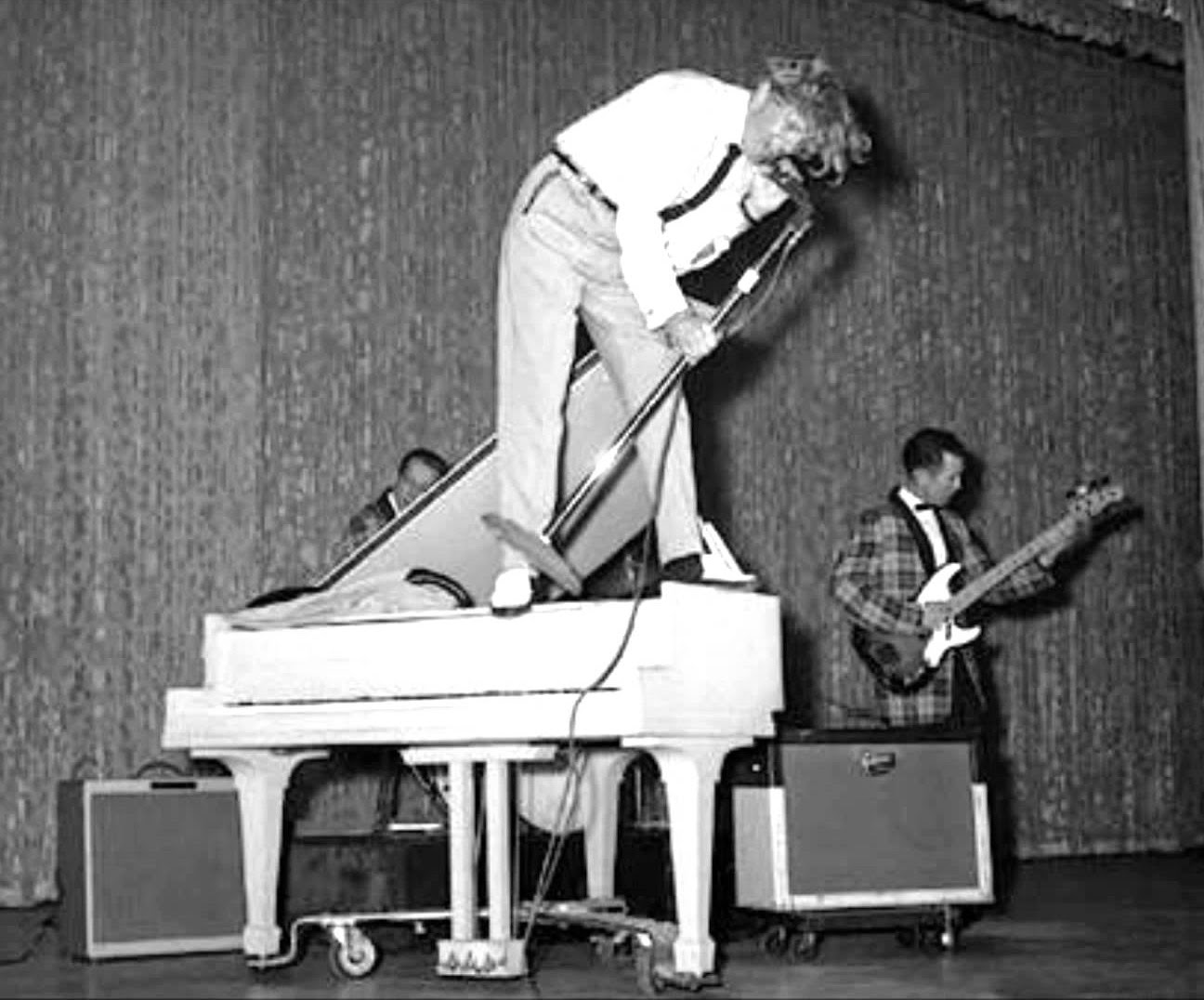 But the great year in the life of Jerry Lee Lewis was 1957, when he recorded his two greatest hits. The first of them was "Whole Lotta Shakin 'Goin' On", a song with a high sexual content, which is why it had problems with censorship on the main radio stations in the country. It even prevented him from playing on the famous TV show "Ed Sullivan Show." He did so on the set of his main competitor "The Steve Allen Show" and his performance elevated the song to number one on the country and R&B charts and third place on the pop charts, eventually selling six million records worldwide. the world.
The foundations for what was to come, which would be even greater, were well established. And what would come in the musical life of Jerry Lee Lewis is his greatest success: "Great Balls of Fire".
Written by hitmaker Otis Blackwell, in collaboration with Jack Hammer, the song met with some resistance from Lewis, after the censorship problems he had with his previous hit. They convinced him after showing him that the lyrics were full of metaphors that made them seem less provocative… even if it was just as provocative as "Whole Lotta Shakin 'Goin' On". And Jerry Lee, who did not shy away from trouble, agreed to record it.
The irascible pianist entered the Sun Records studios on October 8, 1957, along with guitarist Roland Janes and drummer JM Van Eaton to record this piece of just under two minutes long, enough to be one of the great classics of the world. Rock And Roll. It was released as a single on November 11, selling over a million copies in the first ten days. reaching number 2 on the Billboard pop chart, number 3 on the R&B chart, and number 1 on the country chart.
With two other hits playing everywhere: "Breathless" and "High School Confidential", Lewis was in 1958 the most successful rock and roll musician of the moment. However, everything was going to collapse in a predictable way from a bad decision of the musician.
In mid-1958, scandal broke out around his (not so) private life when it became known that his wife Myra Gale Brown, in addition to being the daughter of his cousin, bassist JW Brown (because no, this was not the point), was 15 years old … in 1958 (no, this was not the point either). And if they were married in 1956, it meant they were married at 13 (this was the point).
The consequences of such a revelation were devastating for Jerry Lee Lewis. Away from the music scene, his star faded and rock and roll saw one more of its own fall from grace. Almost 40 years later, in 1989, the biopic that they obviously titled was released "Great Balls of Fire" with a masterful performance of Jerry Lee Lewis by actor Dennis Quaid and with Wynona Ryder as the teenage cousin. The film relaunched the figure of the eccentric pianist, the only survivor of that scene from the 50s, but nothing was ever like that 1957.
Many Thanks To The following Website For This Valuable Content.
Jerry Lee Lewis and the 'Great Balls of Fire'