In apparent retirement from his Jedi outfit, Mark Hamill went from the most important science fiction saga in Hollywood to a character inspired by a true story: he will be Talus in the Knightfall series de History.
Cinema icon. Active in social networks like few actors at the same level of popularity, Mark Hamill (Luke Skywalker in the Star Wars saga) really enjoys dealing with his fans every day.
Hamill began working on television and as the voice of some characters in animated Hanna-Barbera strips.
He participated in some series and also starred in a television film known as "The City." Before putting himself under George Lucas for the first time, he already had an armed career, but his moment of glory came with the interpretation of Luke Skywalker in Star Wars (1977).
(It may interest you: Star Wars-Episode VII: The Force Awakens)
His popularity exploded. He made $ 650,000 for that role and a small but significant percentage of the film's profits and TV reruns. Currently his fortune ranges between 12 and 18 million dollars, according to different reports.
News: What is it like for you to be a part of this new world?
Mark Hamill: I was intimidated because the first season was so good. You join an established show, you want to make sure you fit in. I've never been asked to do things like this before, no one has offered to be in a historical drama. I love it, I love the challenge of doing something I've never done before. I did similar things with the voiceover, but never on camera.
(It may interest you: What will the new animated series "Star Wars Resistance" be like)
News: Do you like history? These kinds of stories?
Hamill: I love for example Deadwood who is going to have his movie now. It's kind of a tough deglamorization of the West. I love historical books, movies and television. In my mind when I think of knights I think of King Arthur around the round table, which is very stylish and glamorous. This show has all the glamor of the 14th century, a guy from 45 was old for these people. Did a tooth hurt? They gave you whiskey. It gave me great joy to be living in that present during filming.
News: He is still a knight, in Knightfall or Star Wars.
Hamill: It is the day and the night. Now I am in the world of Knightfall, but I must confess that only after I accepted the role did people begin to tell me "you were a gentleman before and you are now". I think probably in a fantasy world where you have the power to lift things just by thinking about it is a lot easier than what we have to do in the greedy world of Knightfall and the Knights Templar.
News: What do you like the most about the series?
Hamill: Tom Cullen (The protagonist of the series). Seriously, I think he does a great job because the whole show is seen through his eyes. Just your task, the challenge it represents. He could have left and given up but he has the tenacity to stay and want to redeem himself. And that's what the story in season two is really about, a job of redemption.
News: And his character?
Hamill: My father was in the army, I met his environment, and nI have never met anyone like Talus, my character. A harsh and brutal exterior in which you do not see the person but only the authority figure that he represents. It's fun to play some kind of antagonist, but only because it blocked him from meeting his goals. I'm not going to make it easier for you in any way. It is very bad never to get to know the kings, the sets are so opulent and beautiful.
News: What is it like to work on such a big set again?
Hamill: We are like a family, we spend more time with the cast and crew of a movie or a TV show than with your real family. It was very important to me to feel like I know everyone, not just the cast but also the crew. There is security if you show that kind of respect. I really never understood actors who say "don't look me in the eye." I am the opposite.
(It may interest you: What will be the 20 must-see series of 2019)
News: What factor made you say yes to this role?
Hamill: When I read the script I asked myself "why have they thought of me?" Seriously, for a character like that you think of Willem Dafoe, or I don't know who, but not me. That was one reason why I was very attracted to it. I remember "Sushi Girl" (2012), before I took the film I thought "it's very violent, I would love to see this movie but not be in it". And my daughter told me "you always complain that you want the parts that Steve Buscemi or Philip Seymour Hoffman get." The characters of those actors are one of my favorites, and she told me "if you don't grab this, stop complaining about being offered eccentric roles." Crow, my character, was so strange … A lot of that happened to me in Knightfall, many situations that you think – he gets up and recites in a very loud voice – "this character thinks so differently from me."
News: It came from "The Last Jedi", a complex experience for you, How was the first contact with the production of Knightfall? Do you remember who called you initially? How was the proposal?
Hamill: My agents told me they were sending me records of the show. I had heard of him but had not seen him until then, I asked what he was from and when they told me he was from the Templars I said "that's good, I want to see him." I wanted to see it, not appear on the show. I'm already old and comfortable, it takes a lot for me to take off my pajamas. Spending the whole day in your pajamas is a victory. We bought popcorn and began to see it. AND then the proposal came to me. I wasn't convinced, but I realized that if I didn't accept it, no unusual offers would appear., so I said to myself "I must do it."
News: Does the Holy Grail appear in the series?
Hamill: Isn't that that at the end of "Raiders of the Lost Ark" makes your face melt? Everything I know I learned from TV and movies, it's terrible. My brother once told me "if you finished your report on such a book…" and I said "no, but there is a movie that I saw, I read something from the book".
(It may interest you: Cinema: what are the essential films to see)
News: Main conflict of your character?
Hamill: When I read the script I was thinking about my voice over, the first time I got engaged was at the first wardrobe fitting. It took me 15 minutes to put a boot on, and I gasped. The costume designer told me, "We're going to have to work on this." It's layer upon layer, tunics, leather shoulder pads, the belt, the ax, all amazing. And it's all part of the character, and you use that experience to make it work in the context of acting, to add nuance to the character.
News: He played the Joker in the Batman animated series. Do you like that side?
Hamill: Voice-over is every actor's vague dream. You don't have to memorize your lines, you just read them. As the Joker did an acrobatic fight with Batman in a runaway helicopter, crashing into the doors of a casino and sliding on the ground, we did "uf, ah, ow", and that was it. We did the entire program in four hours.
by Mariano Ojeda
Image gallery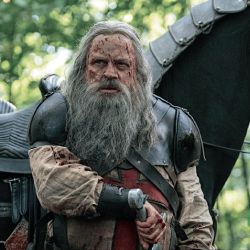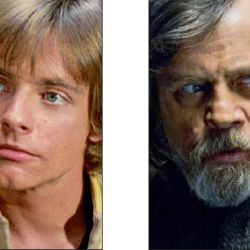 Many Thanks To The following Website For This Valuable Content.
Mark Hamill, gentleman's heart