A year ago, some photos of Miley Cyrus kissing blogger Kaitlynn Carter on the deck of a ship set off all the alerts and began to talk about problems in the newly released marriage between the singer and actor Liam Hemsworth. A few hours after those images went around the world, a spokesperson for Cyrus confirmed the news: the couple had separated. A separation that came just eight months after Cyrus and Hemsworth had given the "yes, I do" on Christmas Eve 2018 in the house that the singer has in Franklin, Tennessee, with his closest relatives.
The relationship of the now ex-partner went back to a decade ago, when they met on the set of The last song. Engaged in 2012, they broke up a year later, but in 2015 they met again and in 2016 they resumed their courtship. A hectic romance that ended at the end of last January, when the singer, 27, and the actor, 30, signed the divorce papers. Throughout this year, each one has lived their new state — civil, emotional and professional — in their own way. Liam, with his usual discretion and Miley monopolizing each headline with his rowdy actions or comments.
What at first seemed to be in apparent harmony did not take long to explode. Only three days after the separation was known, she ventured on social networks about the need for a global change in her life, then he revealed how sunk he was and the refuge he found in his brother Chris and his sister-in-law, the Spanish Elsa Pataky . And later friends on both sides began to leak interested information to the media that spoke of drugs and infidelities. Gone are the initial intentions of discretion and peace that both requested in the statement of their separation. While Hemsworth decided to move away from the media spotlight and focus on sports, work and his new partner, Gabriella Brooks, an Australian model who has already met the actor's parents, Cyrus did nothing but dodge one lurch after another. After a few months dating Kaitlynn Carter, the influence who starred in the summer image of the breakdown of the ephemeral marriage and who came to live with the artist's family, the interpreter of Wreking Ball put an end to that relationship.
Then Cody Simpson came into his life, with whom he has been dating since last October and with whom he seems to have found both stability and that complete harmony that Miley Cyrus longed for so much. "He is the only good person I have ever dated. The rest is shit, "he said in a live broadcast on his Instagram and later claimed:" I thought I was gay, since all men seemed bad until Cody arrived. So girls: don't give up. There are good guys out there, you just have to find them. " A dart that many netizens interpreted aimed directly at his relationship with Hemsworth. But accustomed to not keeping quiet, the singer did not hesitate to speak again when the criticism about her new courtship did not increase. "I'm not going to shut myself out and have dates at home because it's not fun," said the artist, who claimed her freedom as a woman: "I'm older and I make decisions like an adult knowing the truth, the details, the reality. People only know what they see on the Internet […] Men, especially successful men, are never accused of being 'sluts'. They go from one pretty young woman to the next and most of the time without consequences. They are described as 'legends', 'heartbreakers', 'donjuanes' … while they are called whores or sluts ".
However, it has not been her divorce, her new relationship, or the defense for female freedom that has radically changed Miley Cyrus, but rather her problem with her vocal cords. Last November the singer underwent surgery for tonsillitis that prevented her from doing what she loves most in the world: singing. After the operation, the artist was forced to change many of her habits if she wanted to continue dedicating herself to music and had to spend a while without speaking at all, something that helped her to do a kind of introspection therapy. A change that, according to her own admission to the magazine Variety, has led her to reach a professional and personal maturity. "Living a sober lifestyle has been very important to me over the last year because I really wanted to polish my profession," said Cyrus, who has neither drank nor smoked marijuana since. "I thought a lot about my family history, which has many addiction and mental health problems, and I asked myself: Why am I the way I am? By understanding the past we understand the present and the future in a much clearer way. I think the therapy is great, "he added.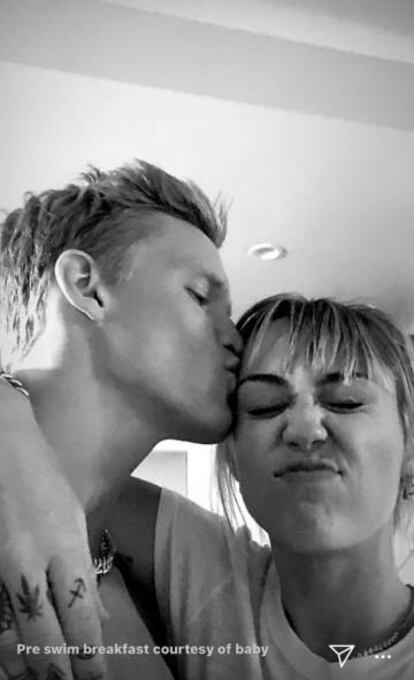 The present of Miley Cyrus arrives with a much healthier body and mind and with the same energy that she wastes since 14 years ago she became known as Hanna Montana at the Disney factory. Without denying her past, or her follies, Miley now occupies more reputable covers like last July, when she starred in that of The Wall Street Journal Magazine; He talks with important personalities such as Massachusetts Senator Elizabeth Warren or Pedro Sánchez himself without leaving aside his longtime friends; and promotes a healthy life but, above all, family life. It is especially her mother, This Cyrus, and her partner, Cody Simpson, who have become the great pillars for the singer.
This Cyrus recently acknowledged that her daughter is a different person since she put drugs and poor diet aside. "Despite the bad reputation that some attribute to her, Miley is the cleanest person I know. She is very disciplined with her body and with her health, "she said. Simpson, for his part, has not separated at any time from her side and has accompanied her in the hardest moments of her recovery, for example when she was forced to deal with the idea that if you don't drink you are a boring person. "It's really difficult, because being young there is a stigma that you are no longer fun. It's like, 'honey, you can call me a lot of things but I know I'm fun.' What I really enjoy about sobriety is being able to wake up 100%, without being dizzy and feeling ready, "Miley Cyrus told Variety. The couple, who have been through confinement together, have learned to learn from each other. "She is very happy to be dating Cody and he loves her new clean and healthy life and supports her sobriety. They are a great couple ", he told the magazine People a nearby source.
This time has not only served Miley Cyrus to move towards maturity, but also to work on her new album, She is Miley Cyrus, whose launch is scheduled for this year. For now prepare a new single, Midnight Sky that, as he is announcing with great fanfare on his social networks, will see the light on August 14 and promises not to leave the new Miley indifferent.
Many Thanks To The following Website For This Valuable Content.
Operations, new boyfriend and sobriety: the life of Miley Cyrus after separating from Liam Hemsworth | People