After two wins, Mercedes is victorious ahead of the Saudi Arabian GP in Formula 1.
Now the engine will give victory number three – but even Red Bull feels hope.
– We trust that Max is strong on city tracks, says Helmut Marko.
Red Bull's outspoken motorsport consultant is not at all worried about Toto Wolff's confident statements that "The Lion has woken up". He is also not worried about the fact that Hamilton will once again use the engine he had in Brazil, which then outclassed all opposition.
– In Qatar, we saw that Hamilton did not have that lead in speed as before, but he was more or less in the normal range. This is because the FIA ​​has scrapped its tests of the rear wing and Mercedes can no longer use the rear wing that is extra mobile, Marko tells F1-insider.com.
– Although Mercedes can use the same rocket engine as in Brazil, but since they can not use the rear wing, it will not give them an advantage of 0.4 seconds.
Saudi Arabia GP in Formula One – on a fast city track
This weekend's competition is decided in Jeddah, Saudi Arabia. The lap is the second longest in the calendar and the average speed is expected to be around 252 km / h. At the same time, it is an urban track with a couple of fast curves and on that type of track, Red Bull has been strong in the past.
– We trust Max's strength on city tracks. He won in Monaco and before he suffered that tire failure, he dominated in Baku. I think it is the driver who makes the difference in the Saudi GP, says Marko.
The new F1 track in Jeddah is designed by Hermann Tilke. The German architect and his team have for many years been responsible for new tracks in Formula 1, including the one in Baku, the one in Turkey, the one in Bahrain, in Sochi and the one in Texas, the one in Shanghai and the one in Abu Dhabi.
Frank Williams is dead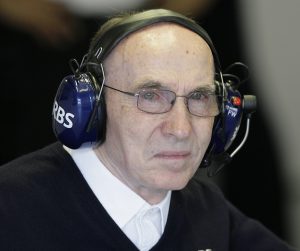 The F1 sport is sad. Sir Frank Williams, the founder of the classic team Williams F1 has passed away. He turned 79 years old. He has been in poor health in recent years and according to information in the British media, he was taken to hospital on Friday and died yesterday morning. Williams is one of the greatest in the sport, a man who thrived in the garage, winning seven drivers 'world championships and nine constructors' championships with his team. Sir Frank Williams has meant a great deal to many drivers over the years and he is missing. You can read more here.
Quick news
After the season finale tests, there are tests in Abu Dhabi. Each team can drive two cars, one of this year's cars with 18-inch tires and a "mule car". One of the days, a driver who competed during this year's season must drive a "mule car". This year's car can be driven one day, but is reserved for a Young Drivers Test in Abu Dhabi. A couple of drivers are ready.
Aston Martin
Nick Yelloly drives for Aston Martin. He has previously driven GP3 and GP2 and is now a swimming driver for Aston Martin, but also drives GT cars.
Haas
Robert Shwartzman is a Ferrari driver and gets the chance at Haas. He has driven Formula 2.
AlphaTauri
Liam Lawson, 19, has competed in Formula 2 and DTM this year. He belongs to Red Bull's driver academy.
Red Bull
Juri Vips, 21, belongs to Red Bull's driver academy and according to AlphaTauri's stable manager Franz Tost will drive for the main team.
McLaren
Pat O´Ward is a colleague of Felix Rosenqvist at McLaren SMP in IndyCar. The Mexican made one did a good season and gets the chance to test F1.
Swedish World Championship title in rallycross
Sweden also got a world champion in rallycross yesterday. Johan Kristoffersson won his fourth World Cup title after great drama. You can read more here.
Friends a new week, with both race and a new computer. Can it get better? Thank you for looking in, for your interesting and well-formulated discussions and your commitment. Now there is full focus on the Saudi Arabian GP in Formula 1!
We would love to give thanks to the author of this article for this amazing web content

Saudi Arabia's GP in Formula 1: Red Bull counts on Max Verstappen