15.00 / La 1 and La Sexta
20th anniversary of 9/11
Both La 1 and La Sexta will dedicate extensive coverage to this twentieth anniversary of the 9/11 attacks. Newscast 1 will connect with the acts of tribute and will analyze the current situation, marked by the departure of US troops from Afghanistan. At night, special edition of the TD2, with Carlos Franganillo on the set and Ana Blanco in New York, with reports from the special envoys along with the analysis of experts on terrorism. In The 2. Themed night will premiere The CIA vs. Bin Laden, where twenty years after the 9/11 attacks and ten since the death of Bin Laden, the CIA reveals the best kept secrets during the hunt and capture of what was the most wanted terrorist on the planet. The Atresmedia channel, for its part, will offer The Afternoon of 9/11, that will start with the broadcast you made Antena 3 News with Matías Prats at the helm. This memory to the victims will include comments from Matías Prats and Antonio García Ferreras. In addition, the viewer's experience will be enriched with graphic elements on the screen that will contextualize and expand the information. Later (19.00), La Sexta will broadcast the special of the sixth column that looks at those attacks right from the present, 20 years later,
15.00 / Movistar Classics
'The big Lebowski'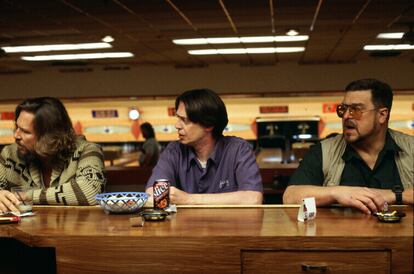 The Big Lebowski. United States, 1997 (112 minutes). Director: Joel Coen. Cast: Jeff Bridges, John Goodman, Julianne Moore, Steve Buscemi.
Splendid comedy by the Coens that follows the line of productions such as Arizona Baby and Death among the flowers. On this occasion, the story revolves around a curious character, El Nota, an individual who lives hallucinated in a marijuana nebula and who one fine day is mistaken by some thugs for a rich millionaire from Pasadena, Jeff Lebowski. From here begins a whole display of crazy characters and surreal intrigues in which extortion, betrayal, deception and blackmail are mixed.
15.00 / Movistar CineÑ
'Moors and Christians'
Spain, 1987 (106 minutes). Director: Luis García Berlanga. Interpreters: Fernando Fernán-Gómez, Agustín González, José Luis López Vázquez.
Without a doubt, one of the least successful films of the great Luis García Berlanga. The efforts of some nougat manufacturers to get into the world of marketing serve as the poor plot base of this decaffeinated comedy that does not lack, yes, some touches of genius on the part of its well-known director. But that alone is not enough, although Berlanga will always be Berlanga.
17.00 / Neox
'Shrek'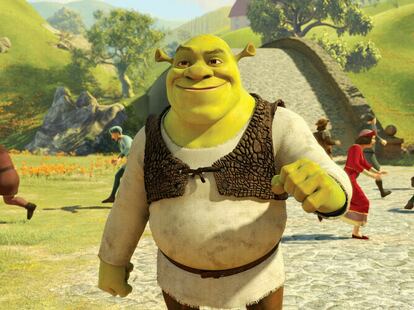 United States, 2001 (80 minutes). Directors: Andrew Adamson, Vicky Jenson and Scott Marshall.
First installment of the funny adventures of Shrek, an ogre who sees how his tranquility is disturbed when an invasion of characters from stories who have been expelled from his kingdom arrives in his swamp. This feature film, produced by Steven Spielberg's company, Dream Works, and which took more than four years to produce, won a well-deserved Oscar for best animated film, thus inaugurating this category at the prestigious Hollywood competition.
17.03 / Movistar Classics
'Trainspotting'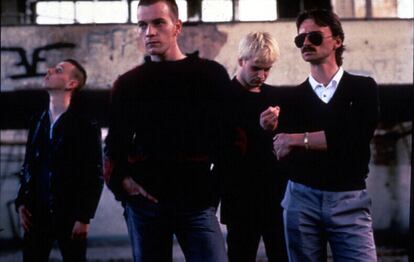 United Kingdom, 1996 (89 minutes). Director: Danny Boyle. Performers: Ewan McGregor, Ewen Bremmer, Robert Carlyle, Johnny Lee Miller.
Many films have taken the world of drugs and drug use as a starting point, but none resembles this. Danny Boyle chose Irvine Welsh's novel of the same name to show this perfectly narrated drama that traces the experiences of a group of outcasts in Edinburgh: an unconscious and sickly young man, a psychopathic alcoholic, an incurable but sweet heroin addict, a cloying and morbid donjuán and, finally, a boy who does not take drugs, but who will end up starting. To bring this diverse group to life, the director turned to a bunch of talented actors such as Ewan McGregor, Ewen Bremner and Robert Carlyle, who face an uncertain and daunting future. Quite controversial film, it had British pop figures such as Iggy Pop and Lou Reed for its soundtrack.
18.30 / Movistar LaLiga
Double date with LaLiga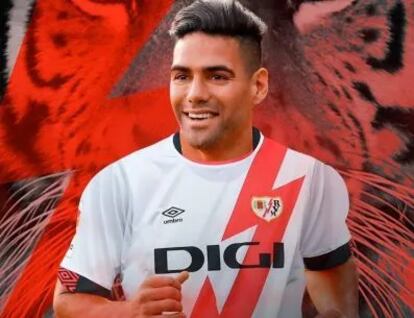 After this long break due to the official commitments of the national team, Primera's football returns with two exciting clashes. First (Movistar LaLiga, 18:30), Levante will host Rayo Vallecano. The Valencians do not know the victory they lost in San Sebastián, while the Madrilenians come from achieving their last win (4-0). This game will possibly serve for Falcao's debut with Madrid. In the evening (GOAL, 9:00 pm), Athletic Club will host Mallorca in San Mamés. The team led by Marcelino García Toral, which remains undefeated and seeks to add its second victory of the season against a recently promoted team that is being one of the most reliable teams of this beginning of the season.
19.50 / AXN
'Web of lies'
Body of Lines. United States, 2008 (122 minutes). Director: Ridley Scott. Performers: Leonardo DiCaprio, Russell Crowe, Mark Strong.
The story of an American field agent who, to unmask a terrorist based in Jordan, must enter his murky world centers the plot of this measure combination of action cinema and traditional espionage directed by a Ridley Scott who now turns his gaze to the conflicts in the Middle East. At the head of the cast, two effective and blockbuster actors: Leonardo DiCaprio and Russell Crowe, who repeats with Scott after Gladiator, A Good Year and American Gangster.
21.00 / The Sixth
New season on 'laSexta noche'
The news returns with the analysis, interviews and the debate, returns the sixth night with its tenth season. One of the novelties of the space is the change of presenter, José Yélamo, who takes over from Iñaki López. For this debut, she will interview Isabel Rodríguez García, Minister of Territorial Policy and Government spokesperson, with whom she will address the historical increases in the price of electricity, the blockade in the renewal of the General Council of the Judiciary, the evolution of the pandemic and de-escalation or cases of homophobic aggression.
22.00 / Movistar Premieres
'Trip to Greece'
The trip to Greece. United Kingdom, 2020 (110 minutes). Director: Michael Winterbottom. Performers: Steve Coogan, Rob Brydon, Claire Keelan.
After The Trip to Spain, Viaje a Italia and The Trip, Michael Winterbottom directs the fourth film in his gastronomic saga, a curious road movie manners-intellectual in which British actors and screenwriters Steve Coogan and Rob Brydon reprise themselves. Now, under the pretext of writing restaurant reviews for The Observer, Steve Coogan and Rob Brydon go on another of their culinary journeys, this time inspired by Homer and the route back home that Ulysses took after the Trojan War.
22.00 / #0
'United 93'
United States, 2006 (91 minutes). Director: Paul Greengrass. Performers: Christian Clemson, Trish Gates, Polly Adams, Cheyenne Jackson.
Filmmaker Paul Greengrass (Bloody Sunday) it recounts in real time the events that allegedly occurred aboard the only aircraft hijacked on 9/11 by Muslim fundamentalists that did not reach its goal, the Capitol (it crashed in Pennsylvania), thanks to the intervention of the passengers. An overwhelming drama, shot without concessions to the gallery.
22.00 / Neox
'Around the World in 80 Days'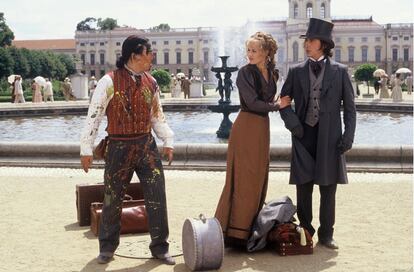 Around the world in 80 days. United States, 2004 (114 minutes). Director: Frank Coraci. Performers: Jackie Chang, Steve Coogan, Robert Fyfe.
Jules Verne's wonderful novel has seen a good handful of film versions, especially the one directed by Michael Anderson in 1956. The one that Neox emits today is among the worst, due in large part to the protagonist, Jackie Chang. Despite everything, it has its audience.
22.00 / TNT
'In time'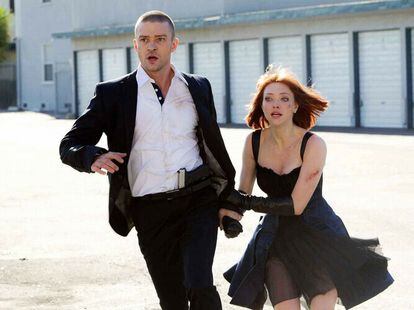 United States, 2011 (109 minutes). Director: Andrew Niccol. Cast: Justin Timberlake, Amanda Seyfried, Cillian Murphy.
With an imaginative and interesting plot premise (a future society in which the aging gene has been canceled and time is used as a bargaining chip) is presented this entertaining science-fiction installment that, unfortunately, is gradually losing strength by moving in terrain already seen a thousand times. Despite everything, it deserves a chance.
22.45 / The 1
'The darkest night'
Zero Dark Thirty. United States, 2012 (150 minutes). Director: Kathryn Bigelow. Cast: Jessica Chastain, Jason Clarke, Reda Kateb, Jennifer Ehle.
Oscar winner Kathryn Bigelow once again demonstrates her talents at directing stories as tough as they are uncomfortable in this intense and haunting mix of drama and action. Now he investigates, with a curious semi-documentary tone, the experiences of a young and inexperienced American agent who, after the attacks against the Twin Towers, moves to Pakistan to collaborate in the hunt and capture of the number one enemy of her country: Osama Bin Laden.
0.40 / 1
'Anwar File'
Estados Unidos, 2007 (122 minutos). Director: Gavin Hood. Int.: Jake Gyllenhaal, Reese Witherspoon, Peter Sarsgaard.
The first film by South African Gavin Hood since he won the Oscar for Best Foreign Language Film in 2006 with Tsotsi it was an intense and brave thriller about an Egyptian living in the United States who, after receiving a wrong call on his mobile phone, is kidnapped, transferred on one of the secret CIA flights and tortured into confessing his participation in an attack. Meanwhile, his wife will do everything possible to locate him.
You can follow EL PAÍS TELEVISIÓN on Twitter or sign up here to receive our weekly newsletter.
Many Thanks To The following Website For This Valuable Content.
What to watch on TV today? Saturday September 11, 2021 | TV