9.00 / Netflix
New installments of 'Into the night'
second season of Into the night, Belgian apocalyptic series where passengers and crew aboard a hijacked night flight try to avoid the sun while a mysterious cosmic event sweeps the entire world at their feet. Now, civilians are trying to get used to life in a military bunker. Unfortunately, they are completely under the command of the military. Obviously, a fire will call into question the survival of our heroes who will have to go to Norway to bring seeds.
9.00 / Disney+
More terror in 'American horror stories'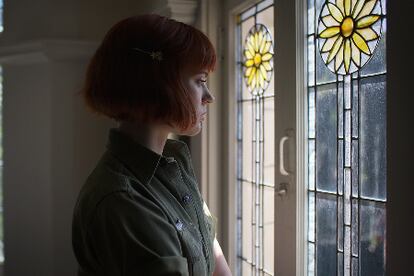 Series derived from the popular American Horror Story of seven episodes and with a different horror story in each of them. Ryan Murphy, Brad Falchuk, Alexis Martin Woodall, John J. Gray and Manny Coto serve as executive producers and he has part of the regular cast in Murphy productions.
15.00 / Movistar CineÑ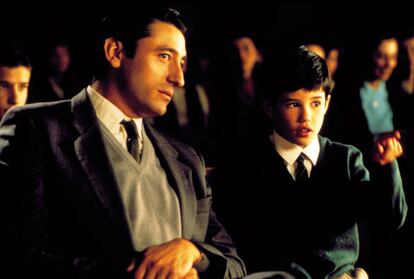 'Secrets of the heart'
Spain, 1997 (104 minutes.). Director: Montxo Armendariz. Interpreters: Carmelo Gómez, Sílvia Munt, Charo López.
Four goyas, the Blue Angel from Berlin, the Sant Jordi Award for Cinematography and the Oscar nomination guarantee the quality of this beautiful intimate story directed by Montxo Armendáriz. Excellent work by its great cast, impeccable photography by Javier Aguirresarobe and music by Bingen Mendizábal for a warm and simple story about the age of innocence and the painful trance of getting out of it. Essential.
15.00 / Movistar Drama
'The purple rose of Cairo'
The purple rose of Cairo. United States, 1985 (79 minutes). Director: Woody Allen. Performers: Mia Farrow, Jeff Daniels, Danny Aiello.
Cinema crosses the barriers of fiction to become a reality in this very interesting fantastic comedy with which the great Woody Allen got, without a doubt, one of his most successful works. A woman, tired of her life, finds love on the other side of the screen in this wonderful bittersweet tale with which the mythical director-actor worships the seventh art. A very successful cast ends up raising this mythical feature film to the top, which is an essential review.
15.16 / COSMO
'The Ladykillers'
United States, 2004 (104 minutes). Directors: Ethan and Joel Coen. Performers: Tom Hanks, Irma P. Hall.
Tom Hanks returns to comedy with the Coens, who sign together for the first time as directors, in this hilarious comedy, remake from The quintet of deathby Alexander Mackendrick, but now located in the Mississippi. There an eccentric southern professor organizes a gang of unskilled robbers to rob the Bandit Queen, a casino ship off the Mississipp. All very much in the style of its always surprising directors. Cannes Film Festival Jury Prize for the performance of Irma P. Hall.
16.39 / Movistar Comedy
'A fish named Wanda'
Fish called Wanda. United States, 1988 (108 minutes). Director: Charles Crichton. Performers: Jamie Lee Curtis, Maria Aitken, Michael Palin, Kevin Kline, John Cleese.
The sentimental adventures of a woman determined to get the succulent loot of a robbery served Charles Crichton to make this crazy comedy, very well starring Jamie Lee Curtis and part of the members of the famous Monty Phyton (the character of John Cleese (Archie Leach) is a tribute to Cary Grant, from which it takes even the actor's real name, Archibald Alexander Leach.
18.42 / Movistar Comedy
'Up in the air'
United States, 2009 (109 minutes). Director: Jason Reitman. Cast: George Clooney, Vera Farmiga, Anna Kendrick, Jason Bateman.
Outstanding comedy drama based on the novel of the same title written by Walter Kirn, which focuses its attention on an expert in financial cuts and layoffs who has made airports his home (played by an excellent George Clooney), who When the time comes, he has to rethink his entire lonely and empty life. Six Oscar nominations, including Best Picture, Adapted Screenplay, and Best Director for Jason Reitman (Juno), for a clever portrait of contemporary life. Essential.
19.20 / Movistar Classics
'Lord Jim'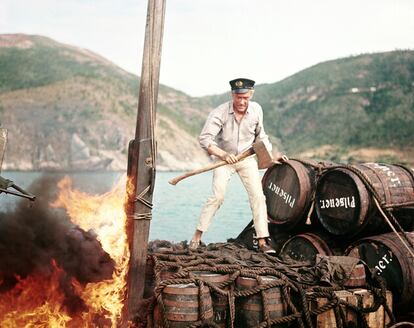 United Kingdom, 1964 (147 minutes). Director: Richard Brooks. Interpreters: Peter O'Toole, James Mason, Paul Lukas, Jack Hawkins.
With a generous budget, a successful staging and a cast full of stars (to highlight the work of Peter O'Toole, at that time a great star thanks to his role in the mythical Lawrence de Arabia) This outstanding adaptation of the homonymous classic written by Joseph Conrad is presented. A great film.
20.45 / The 1
Spain faces Kosovo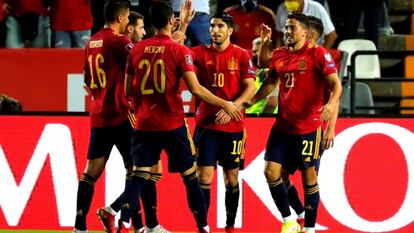 After the defeat against Sweden and The defeat against Georgia (4-0), the Spanish soccer team will face the Kosovo Football Federation this afternoon at the Fadil Vokrri stadium in a qualifying match for the World Cup. Those of Luis Enrique add 10 points and are leaders of group B ahead of Sweden (9) that has two less disputed games. A defeat would almost definitely take him away from the first place that would give him a direct pass to the World Cup.
21.45 / Antenna 3
'The anthill' receives a visit from Hovik Keuchkerian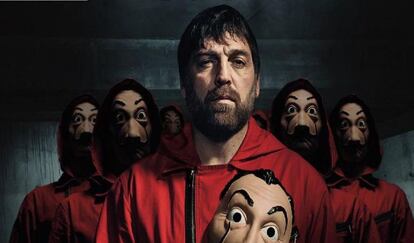 Tonight, The anthill welcomes actor Hovik Keuchkerian for the first time. The interpreter is going to talk about the highly anticipated fifth and last installment of the series The Money Heist, where he plays Bogotá. The actor will talk with Pablo Motos and the ants of the program about how he has lived this final stretch of fiction, what it has meant for his life and how the character has prepared since its inception.
22.00 / Movistar Releases 2
'An extraordinary friend'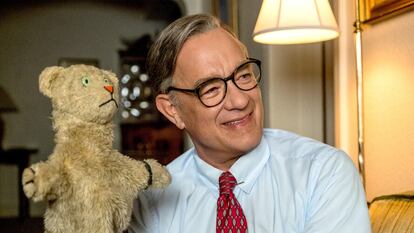 A beautiful day in the neighborhood. United States, 2019 (103 minutes). Director: Marielle Heller. Performers: Matthew Rhys, Tom Hanks, Chris Cooper.
The relationship between Freed Rogers, a respected host of a mythical children's television program, and Lloyd Vogel, a journalist with a bad professional reputation for his hurtful articles that he has to write his biography, helped the filmmaker Marielle Heller to shoot this emotional, which does not corny, biographical drama in which stands out, above all and all, the good work of a credible and perfect Tom Hanks in his role (Oscar, Golden Globe and BAFTA nomination for best secondary). A remarkable story of unexpected friendships inspired by an article in Esquire magazine.
22.00 / Telecinco
'Beauty and the Beast'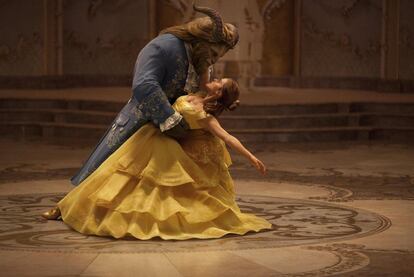 Beauty and the Beast. United States, 2017 (123 minutes). Director: Bill Condón. Cast: Emma Watson, Dan Stevens, Luke Evans.
Adaptation of the traditional European fairy tale, converted in 1740 into a story written by the French Gabrielle-Suzanne Barbot de Villeneuve that bases almost all its effect on a commercial cast led by an Emma Watson who defends herself with trade. In short, a mix of real image and animation that, although it may be entertaining, does not add anything new to this children's classic.
22.10 AMC
The perfect wife prototype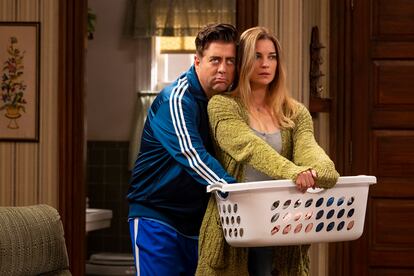 AMC exclusively premieres its original series Damn you, Kevin, who discovers the truth about the typical perfect wife of American comedies. Starring one of the current comedic actresses and Emmy winner for best supporting actress, Annie Murphy and renewed for a second season, this production combines two series formats (multi-camera sitcom and realistic single-camera drama) to tell the story of Allison McRoberts, a prototype of a female character that is seen so many times on television.
22.30 / The Sixth
'Lethal memory'
The Long Kiss GoodNight. United States, 1996 (120 minutes). Director: Renny Harlin. Performers: Geena Davis, Samuel L. Jackson, Billy Cox.
Entertaining mix of action, drama, comedy and suspense, starring a couple who already knew what it is to be fluent in action movies: Geena Davis and Samuel L. Jackson. A happily married woman tries to unravel the mysteries of her dark past in order to protect her family in this fast-paced film directed by Renny Harlin, director of The island of severed heads and based on a novel by Shane Black, writer of Lethal weapon. Conventional, but entertaining, all things considered.
22.35 / The 1
Last destinations of 'Comando al sol'
The summer tour of Command the sun: you will walk through the less known side of Gran Canaria where you will the only Camino de Santiago located outside the European continental zone, they will follow the route of the colorful towns of Segovia. And they will make the leap to Gibraltar and its "orange beach". More than 11 million tourists visit Gibraltar each year, 70% Spanish. Peeo, what are the attractions of spending the summer in one of the most densely populated territories in the world and just over six square kilometers?
22.45 / Antenna 3
'I see how you sing' arrives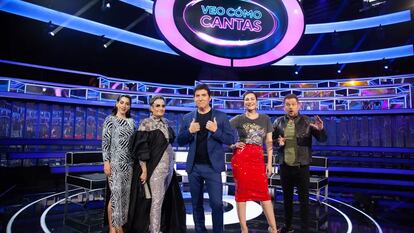 Antena 3 premieres tonight I see how you sing, a program that already has more than twenty adaptations around the world. Hosted by Manel Fuentes, the contestants, with the help of a fixed panel of celebrities and a well-known guest artist (Rosario will be the first), must guess if the mystery singers are good or bad vocalists without hearing them sing. Ruth Lorenzo, Ana Milan, Josie and El Monaguillo will form the permanent advisory panel for each installment. They will be in charge of helping the contestant to recognize good vocalists and those who have nothing to do in the world of music. In addition, each installment has a guest artist who will have to play a song with a mysterious singer or with an imposter. The first to be part of the show will be Rosario.
22.50 / Four
Triple installment of the 'FBI' series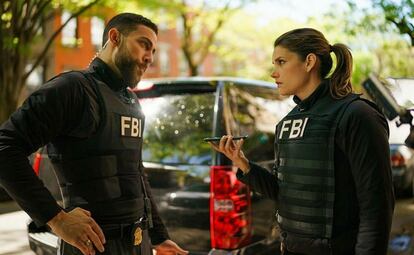 New appointment with the series created by Dick Wolf (Law) and shot in natural and urban locations in New York, FBI. In the first installment, titled Invisible, When the daughter of a wealthy family is kidnapped in an attempt to gain internet fame, Maggie and OA discover that the kidnapper's plans go far beyond the kidnapping itself and that he wants the event never to be forgotten. In the second chapter, Apex, Maggie and Dana fight to bring justice to the victims of a serial killer who left a ghoulish mark on all of them, as the mayor tries to limit the investigation to avoid financial loss. And finally, The most wanted, with OA and Maggie working with several members of the FBI's Department of Fugitives to try to locate a subject charged with murder who is also on the list of the 10 most wanted people in the United States.
23.51 / Hollywood
'Life imprisonment'
The shawshank redemption. United States, 1994 (136 minutes). Director: Frank Darabont. Performers: Tim Robbins, Morgan Freeman.
Screenwriter and director Frank Darabont (The green Mile) won seven Oscar nominations (ultimately none) for this prison drama, which based much of its effect on the great acting duel between Tim Robbins and a wonderful Morgan Freeman. An agile and well-narrated film that focuses on the prison experiences of a man convicted of a crime he did not commit.
1.37 / TCM
'Between glasses'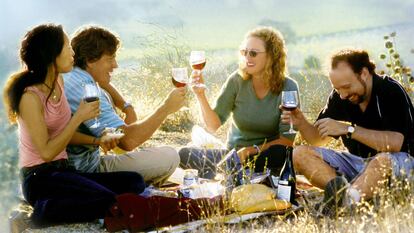 Sieways. United States, 2004 (123 minutes). Director: Alexander Payne. Performers: Paul Giamatti, Thomas Haden Church, Virginia Madsen.
Rex Pickett's autobiographical novel helped Alexander Payne make his fourth feature film, a clever comedy-drama about the lives of two losers: an aspiring writer sheltered in his passion for wine and an actor who makes a living doing small jobs. . Excellent screenplay, awarded with the Oscar, and some luxurious performances (impressive Paul Giamatti).
You can follow EL PAÍS TELEVISIÓN on Twitter or sign up here to receive our weekly newsletter.
Many Thanks To The following Website For This Valuable Content.
What to watch on TV today? Wednesday, September 8, 2021 | TV