NEWYou can now listen to Fox News articles!
Russian President Vladimir Putin appeared at a massive rally in Moscow on Friday, applauding his troops as they continued to pound Ukrainian cities with shelling and missiles.
RUSSIA INVADES UKRAINE: LIVE UPDATES
"We know what we have to do, how to do it and at what cost. And we will absolutely accomplish all our plans," Putin told the crowd gathered in and around Luzhniki Stadium. About 200,000 people attended, many waving Russian flags, according to Russian police and state media.
Putin congratulated his soldiers at the celebration marking the eighth anniversary of Russia's capture of the Crimean peninsula from Ukraine in 2014. Such unity that we haven't had for a long time," he said.
BIDEN CALLS PUTIN A 'WAR CRIMINAL' AFTER SAID RUSSIA WILL INFLICT 'APPORIZING DEVASTATION' ON UKRAINE
He called the February 24 invasion necessary to defend against the "genocide" of Russian-speakers in Ukraine – a claim emphatically rejected by the West.
According to Kremlin spokesman Dmitry Peskov, state television, which was broadcasting his speech, was briefly interrupted due to a technical problem.
The event took place in a football stadium used during the 2018 FIFA World Cup. The slogan "For a world without Nazism" appeared on the stage where Putin spoke.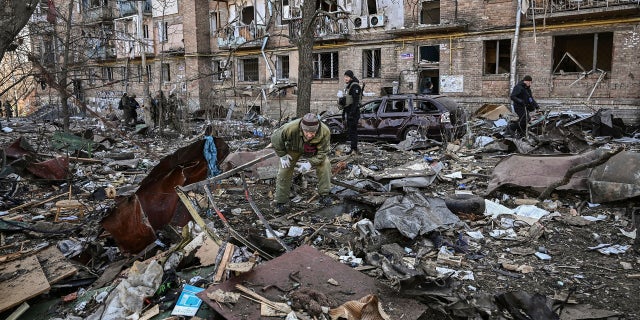 Before the autocratic leader addressed the crowd, speakers praised him for fighting "Nazism" in Ukraine – a claim dismissed as false by many world leaders. Ukrainian President Volodymyr Zelenskyy is Jewish. Zelensky previously noted that members of his family were killed during the Holocaust.
CLICK HERE TO GET THE FOX NEWS APP
Russian singer Oleg Gazmanov wowed the audience with a rendition of "Made in the USSR" with the opening line "Ukraine and Crimea, Belarus and Moldova, that's my whole country."
The Associated Press and Reuters contributed to this report
We would love to thank the author of this post for this amazing material

Putin appears at large pro-war rally as Russian troops continue to attack Ukraine – Reuters News in France and abroad